Private equity, hedge funds, and other alternative assets
Private equity is capital invested in companies that aren't listed on stock exchanges. These alternative assets include venture capital.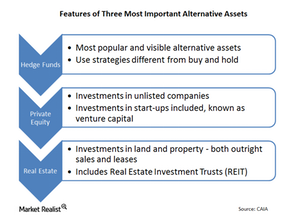 Three main alternative assets
There are a number of different alternative investment products, but these are the three most important:
real estate
hedge funds
private equity
These three products account for the lion's share of alternative asset management. Two other popular alternative investment products are commodities and structured products.
Article continues below advertisement
Article continues below advertisement
The main alternative asset classes defined
Real estate – These assets involve investments in the direct ownership of land or property. Real estate is the most visible of alternative assets, and includes real estate investment trusts, or REITs.
Hedge funds – These are the most popular and visible alternative assets. Hedge funds are privately organized investment vehicles that require lower regulatory oversight and use investment strategies that are different from the traditional strategies to generate returns for investors. Och-Ziff Capital Management Group (OZM) is an example of a large hedge fund.
Private equity – Broadly speaking, this is capital invested in companies that aren't listed on stock exchanges. It also includes capital invested in start-ups. Capital invested in start-ups is called venture capital. Private equity investments are generally done at the initial stages of a company's life cycle. The return comes later when the company grows bigger and is listed on stock exchanges or sold to another player. KKR & Co. (KKR) is a well-known private equity firm.
Commodities – These are the smallest type of alternative asset. Commodities are items or goods that have a demand and are delivered without differentiation. For example, gold is a commodity, but jewellery made of gold isn't a commodity. Commodities include things such as precious metals, base metals, grains, and livestock. Commodities often act as a hedge against inflation. So these assets bring something quite different to a portfolio.
Asset managers such as BlackRock (BLK) and Invesco (IVZ), both parts of the Financial Select Sector SPDR Fund (XLF), are present to varying degrees across the alternative asset management space.