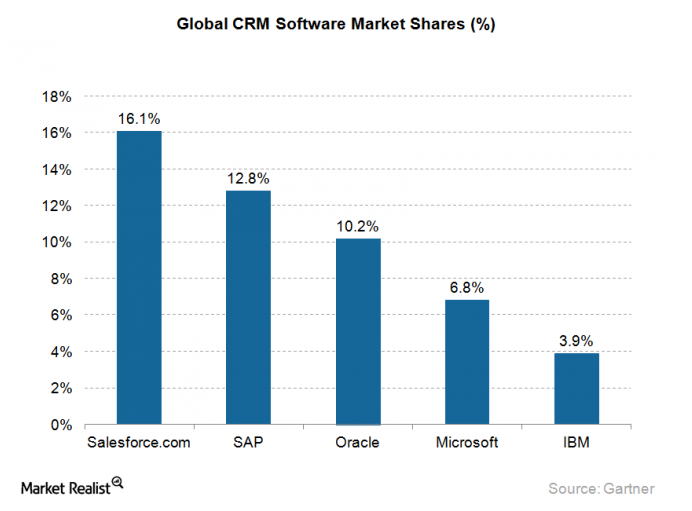 Why Oracle is targeting the CRM market for its growth
Oracle's strategic acquisitions enable it to strengthen its position in the CRM market
Oracle (ORCL) has combined Rightnow Cloud Service, Oracle Fusion CRM, Oracle CRM, and Oracle Applications to offer a social relationship manager through cloud platform. It is in integration with Eloqua acquisition, worth ~$810 million, through which Oracle got access to its B2B marketing automation platform.
Oracle also acquired BlueKai for ~$400 million, so it can harness the potential of customer relationship management (or CRM). BlueKai's software helps CRMs reach the right target market, which is the key element for revenue generation. BlueKai provides audience segmenting and targeting capabilities to Oracle's customers, comparable to what Adobe (ADBE) Target and Analytics provide in its marketing cloud.
Article continues below advertisement
Article continues below advertisement
Adobe categorizes its marketing automation tools according to the type of content/channel, web experience, social, rich media, while Oracle categorizes them according to the customer type: B2C or BRB. Oracle's deployment of analytics is much more CRM-oriented than pure marketing or advertising.
As mentioned in the earlier part of the series, Oracle got hold of BRC and B2B marketing automation platform through its Responsys and Eloqua acquisitions, respectively.
Oracle enjoys dominance in database market and leading position in enterprise software
Oracle has been growing its CRM segment rapidly by making strategic acquisitions. However, there is still a lot of potential to grow further.
Oracle claims it's a market leader in the relational database market, with a revenue share of 48.3%. Oracle also claims it holds a larger revenue share than its four closest competitors combined: IBM (IBM), Microsoft (MSFT), SAP AG (SAP), and Teradata.
Oracle's dominance in database market and leadership in enterprise software revenue will likely give the company an advantage over its peers. Moreover, Oracle through strategic initiatives and acquisition is focusing on rapidly growing areas. CRM will likely become an important segment for the company going forward.