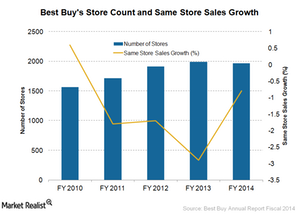 Best Buy sees better same-store sales in 3Q 2015
Optimizing retail stores
Under its renew blue turnaround strategy, Best Buy (BBY) is closing underperforming stores, optimizing space, and improving the ease with which customers can shop in stores. The company is also enhancing its merchandising by expanding its selection of private labels and exclusive branded products.
Article continues below advertisement
Same-store sales
Same-store-sales growth rate is a key metric in the retail industry. It measures the degree to which sales change at a retail chain's existing stores over a particular period of time.
Best Buy's same-store-sales growth rates had been negative since fiscal 2011. In fiscal 2014, its same-store-sales growth rate was -0.8%. But, the company's efforts to optimize its stores helped it achieve a same-store-sales growth rate of 2.20% in the third quarter of fiscal 2015.
Closing unproductive stores
Best Buy is optimizing its retail stores by closing unprofitable stores and improving the shopping experience with attractive vendor displays. In fiscal 2014, the company closed 20 stores in the US market and 21 stores in the international segment. At the end of 3Q 2015, Best Buy had 1,941 stores.
The consumer electronics sold by Best Buy fall under the consumer discretionary sector. The Consumer Discretionary Select Sector SPDR Fund (XLY) includes companies such as Best Buy.
Rival RadioShack (RSH) ended the third quarter with 5,345 stores. In March 2014, RadioShack announced its plan to close 1,100 stores, but lenders' covenants limited store closures to 200.
In the first nine months of fiscal 2015, Sears (SHLD) closed or announced plans to close about 235 underperforming stores, primarily Kmart stores. In the first nine months of fiscal 2015, Target (TGT) closed 8 stores and remodelled 39 stores.
Expanding product selection
One of the priorities of Best Buy is to display a compelling selection of key products in its stores. In 3Q 2015, the company enhanced its appliances display by opening 15 Pacific Kitchen and Home stores-within-a-store. Best Buy intends to end the year with 117 such stores.
In the home-theatre category, the company opened ten Magnolia Design Center stores-within-a-store, and has plans for 50 by the end of the fiscal year. The company is also expanding its selection of ultra-high-definition TVs and phone accessories.