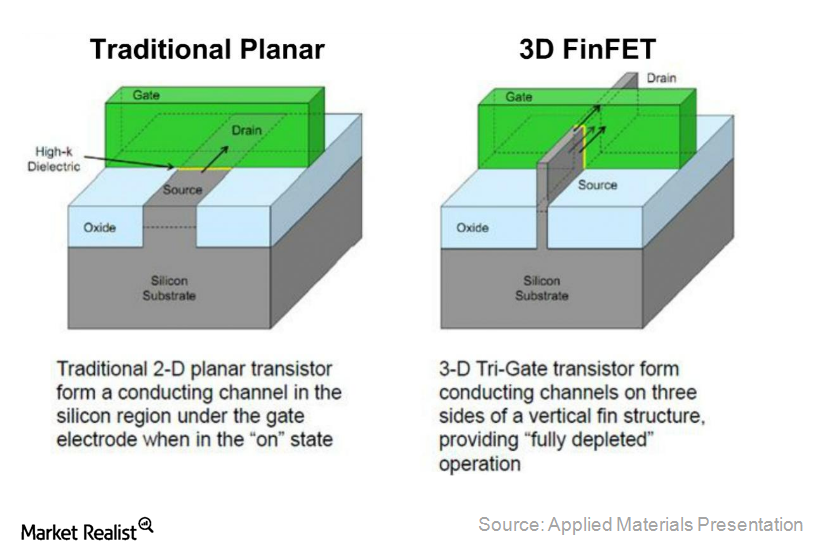 Applied Materials launches CVD, CMP systems for 3D architecture
By Anne Shields

Jan. 14 2015, Updated 12:50 p.m. ET
New products launched for complex devices with 3D architectures
In July 2014, Applied Materials (AMAT) announced two new systems: the Reflexion LK Prime chemical mechanical planarization (or CMP) system and the Producer XP Precision chemical vapor deposition (or CVD) system. Both systems are intended for ongoing preference toward 3D architectures. Its customers, including Samsung (SSNLF) and Micron Technologies (MU), have already adopted 3D NAND flash technology.
Article continues below advertisement
Reflexion LK Prime CMP system
Applied Materials's Reflexion LK Prime CMP system provides wafer polishing performance with nanometer-level precision for FinFET and 3D NAND applications. CMP is a critical enabler for the FinFET gate and the staircase structure in 3D NAND technology. The Reflexion LK Prime CMP system is designed to address the requirements of current new device architectures that can require up to ten additional polishing steps.
The Reflexion LK Prime CMP system features 14 processing stations for polishing and cleaning, six polishing stations, and eight integrated cleaning stations. The system includes a precleaning module to reduce defects, and the real-time process control is designed for the influx of new on-wafer materials. The increase in processing modules doubles wafer throughput for many applications, providing up to a 100% boost in productivity, as claimed by the company.
If Applied Materials's new products are received well, that will benefit exchange-traded funds (or ETFs) like the Technology Select Sector SPDR (XLK) and the VanEck Vectors Semiconductor ETF (SMH). These ETFs have significant exposure to Applied Materials.
Producer XP Precision CVD system
The transition from planar to 3D devices such as FinFETs and 3D NAND creates new challenges for equipment and materials. Planar (or 2D) NAND architecture struggles with density limits. However, 3D technology is considered a breakthrough, as it overcomes density limits faced by planar architecture. It has a denser chip with twice the write performance and ten times the reliability of planar NAND.
The company's Producer XP Precision CVD system aims to solve the demanding, fundamental deposition challenges presented by vertical 3D NAND architectures. The company's Producer XP Precision CVD system supports the 3D NAND technology transition by delivering essential nanometer-level layer-to-layer film thickness control for critical dimension (or CD) uniformity across the wafer. The system's capability to tune crucial factors, such as temperature, plasma, and gas flow is the key to its performance.