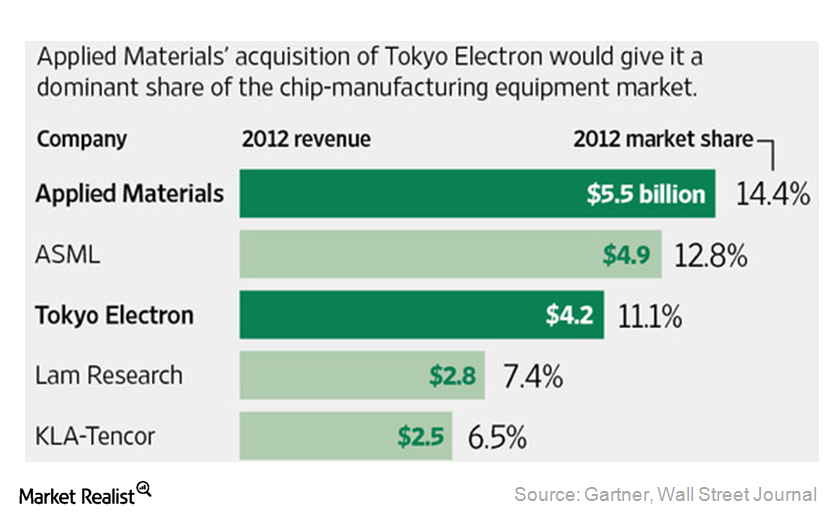 What Tokyo Electron acquisition means for Applied Materials
Merger with Tokyo Electron leads to Eteris formation
In September 2013, Applied Materials (AMAT) announced the purchase of Tokyo Electron Limited in a $9.39 billion all-stock deal. In February 2014, Applied Materials announced that this strategic merger would result in the formation of a new company called Eteris. Gary Dickerson, the current CEO of Applied Materials, is expected to head Eteris. Tokyo Electron supplies semiconductor and flat panel display production equipment instrumental in turning silicon wafers into computer chips.
Article continues below advertisement
Shares in Eteris
Tokyo Electron shareholders will receive 3.25 shares of the new combined company for every Tokyo Electron share held. Applied Materials shareholders will receive one share of the new combined company for every AMAT share held. Applied stockholders and former Tokyo Electron shareholders are expected to own approximately 68% and 32%, respectively, of the new combined company.
Once the merger is completed, it is expected to result in $250 million in cost savings by the end of the first fiscal year of the new entity, Eteris. The companies stated that they expect total savings to grow to $500 million by the third fiscal year of Eteris's existence.
If the Applied Materials SSG segment posts good results, it will benefit exchange-traded funds (or ETFs) like the Technology Select Sector SPDR (XLK) that have significant exposure to Applied Materials.
Merger should strengthen AMAT's competitive position
Applied Materials's merger with Tokyo Electron is expected to provide Eteris with a 25% market share in the chip manufacturing equipment market, as the above chart shows. ASML Holdings (ASML), Lam Research (LRCX), and KLA Tencor (KLAC) command 12.8%, 7.4%, and 6.5% market share of the chip manufacturing equipment market, respectively. Eteris should have an edge over small, highly specialized competitors.
Although both companies manufacture similar devices, they command dominant positions in specific manufacturing chores in semiconductor or display factories. For instance, both companies are involved in etching material from wafers. However, each company specializes in a different stage in that process. This merger should allow both companies to combine and integrate their product lines, giving customers more options to select the right product for their requirements.