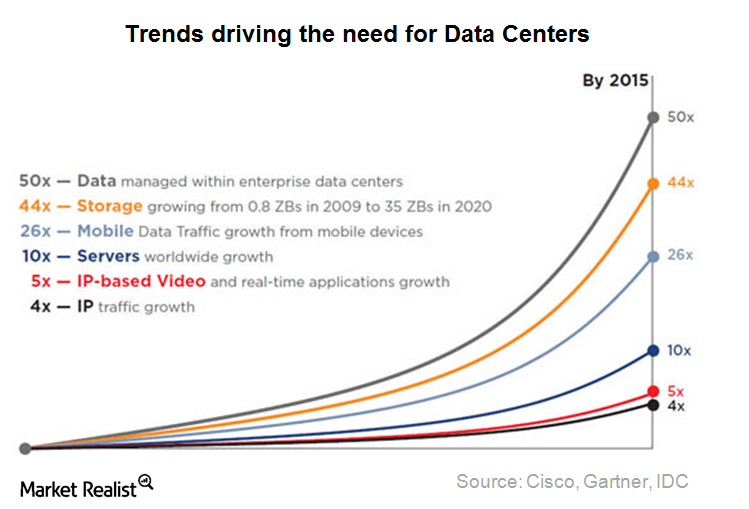 Salesforce.com seeks growth through data centers
New partnership expands company's reach
On October 15, 2014, Salesforce.com (CRM) shared information about its partnership with Deutsche Telekom, a German telecommuincations player. As part of the deal, Deutsche Telekom will run Salesforce.com software in the German company's domestic data centers. Deutsche Telekom will also pitch Salesforce.com to other German companies, thus acting as a local sales fleet for Salesforce.com products.
Article continues below advertisement
Article continues below advertisement
Aims to outpace SAP in Germany
At the 2014 Dreamforce conference, Salesforce.com's Vice Chairman and President Keith Block openly stated that the company wants to beat SAP AG (SAP). SAP's technology finds end-to-end usage in a company's various departments:
accounting
manufacturing
human resources
CRM
finance
Although the Americas contribute about 71%–72% to Salesforce.com's overall revenues, Europe presents a sizable opportunity with its roughly 18% contribution. The Asia-Pacific data center market is also experiencing significant traction. This growth has prompted Microsoft (MSFT) and IBM (IBM) to plan data centers in this region.
SMAC revolution gives rise to data center requirements
The arrival of SMAC (or social, mobile, analytics, and cloud) technology has led to exponential growth in "big data" along with the increased adoption of smartphones and other mobile devices. This has exhausted the amount of space, power, and bandwidth that is currently available. The trend is expected to continue and grow at a much more rapid pace in the near future.
According to a combined study done by Cisco (CSCO), Gartner, and IDC, huge increases are expected in data, storage, mobile servers, and IP traffic. The graph above shows these trends.
Pursues aggressive expansion
Salesforce.com is broadening its European presence and operations through the opening of data centers. The company is keen to complete its expansion in France, Germany, and the United Kingdom by 2015. By opening data centers in Germany, Salesforce.com could attract customers throughout Europe who are skeptical of working with American software companies, which store digital information in the US.
Along with news of the Deutsche Telekom partnership, Salesforce.com announced management's plans to forge relationships and collaborations to achieve greater cost efficiency.