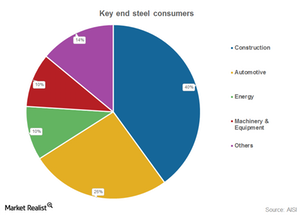 Important End Consumers Of Steel
Key end consumers of steel
Steel, it is said, is the backbone of an economy. That's not an exaggeration when you look at the role steel plays in our daily lives, as well as the role it plays in the economy. Take a look around and you'll see—your car, home, household appliances, and roads—everything is made with this humble metal. It also plays a big role in our economy, supporting a million jobs in the United States, directly and indirectly.
Article continues below advertisement
Article continues below advertisement
Steel Consumption in the US
The steel produced by mills acts as a raw material for several industries. The chart above shows steel consumption by major industries in the US. The construction sector accounts for ~40% of total steel consumption. This includes both residential and non-residential construction. Nucor Corporation (NUE) gets more than half of its revenues from the construction industry. Currently, this company's a top holding of the SPDR S&P Metals and Mining ETF (XME).
Automobile sector is the second biggest steel consumer
The automobile industry is the second-biggest steel end consumer. It accounts for a quarter of steel consumption in the US. AK Steel Holding Corporation (AKS) gets almost 50% of its revenues from automotive companies. ArcelorMittal SA (MT) is another leading supplier to this sector.
Energy sector accounts for 10% of steel consumption
The energy sector is the third-biggest steel consumer in the US. Energy companies require steel for drilling and transporting oil. These products are also known as tubular goods. United States Steel Corporation (X) is the biggest supplier of tubular goods in North America.
There are several indicators that investors can follow to get a pulse on each of these industries. Let's begin by looking at the construction industry's indicators.