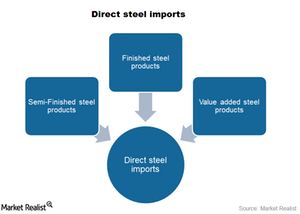 What Are Direct And Indirect Steel Imports?
Direct and indirect steel imports
In this series, we're analyzing the surging steel imports in the United States. Investors should first understand about various types of steel imports. Steel imports can be either direct or indirect. Let's see what these terms mean.
Article continues below advertisement
Direct steel imports
Direct steel imports are the most common type of steel imports. They can either be in the form of semifinished, finished, or value-added steel products. Ingots, slabs, blooms, and billets form part of semifinished steel products. These products have to be further worked on before end consumers can use them.
ArcelorMittal (MT) imports semifinished steel slabs to the United States from its facilities in Brazil. This semifinished steel is then used as a raw material for its Calvert facility. Calvert is a steel processing plant situated in Alabama.
Steel imports can also be in the form of finished steel products. Steel sheets, rods, and coils are some of the common steel products. These can be hot rolled or cold rolled.
Value-added steel products
Direct steel imports can also be in the form of value-added steel products. Steel tubes, railway tracks, and high strength steel products are some of the value-added steel products.
These products are sold at a higher price compared to other steel products. AK Steel (AKS) gets a large portion of its revenues from these value-added products. U.S. Steel Corporation (X) is also venturing into value-added products under its Carnegie Way program.
Steel imports can also be in an indirect form. Move to the next part to learn more.
You can also access the steel industry with the SPDR S&P Metals and Mining ETF (XME). Currently, Nucor (NUE) is a top holding of this ETF.