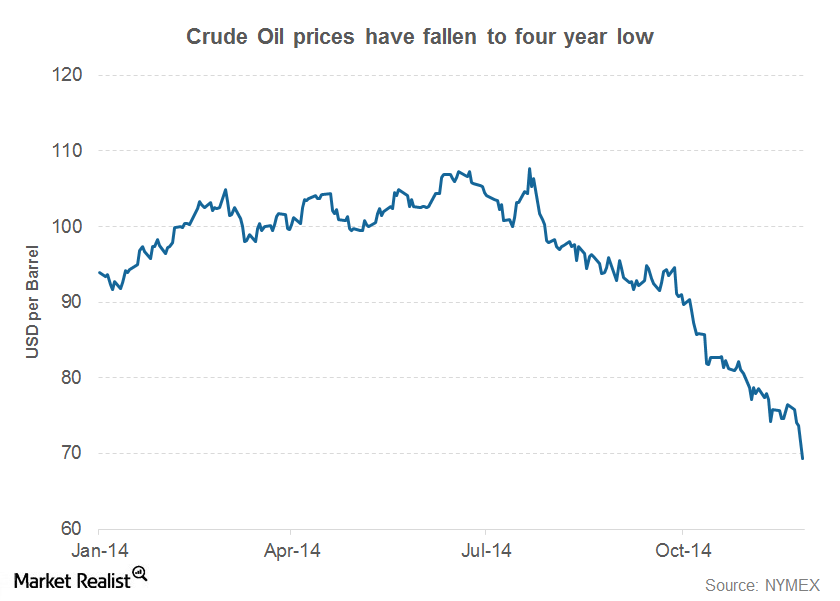 Challenges that aluminum faces as a steel replacement
Aluminum's challenges as a steel replacement
In the last part of this series, we saw how aluminum prices are almost double steel prices. Using aluminum, instead of steel, increases the vehicles' manufacturing costs. To protect their profitability, automakers might have to pass the additional cost to vehicle buyers.
Energy prices dropped substantially. Natural gas prices in the US are low—thanks to the shale boom. Crude oil prices also decreased to their four-year low.
Article continues below advertisement
Vehicle buyers might not be willing to pay more
The above chart shows the decrease in crude oil prices this year. With lower energy prices, analysts' doubt that consumers will pay extra to purchase an all-aluminum body vehicle. Analysts and investors will watch the traction that the F-150 truck generates in its sales volumes. Apart from aluminum's high cost, there are other deterrents that could drive automakers away from aluminum.
Shifting to aluminum requires new production lines
Using aluminum to make vehicles has its own nuances. Automobile companies will need new production lines. This initial high investment might deter some automakers from moving to aluminum. Aluminum isn't welded easily like steel. It has to be put together using adhesives and rivets.
Recently, Toyota announced that it will invest several billion yen to setup assembly lines for all-aluminum body vehicles. This is positive for aluminum producers like Alcoa (AA). Alcoa is positioning itself well to address automakers' lightweighting needs. It's part of Alcoa's transformation. Currently, AA is part of the SPDR S&P Metals and Mining ETF (XME).
At its annual conference, World Steel Association discussed aluminum's potential threats. US Steel Corp. (X), ArcelorMittal (MT), and AK Steel (AKS) are members of World Steel Association.