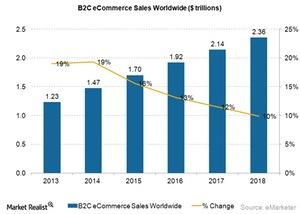 Why is e-commerce such a low-margin business?
By Puneet Sikka

Jan. 1 2015, Updated 1:52 p.m. ET
Traditional retailers looking to leverage the fast growing e-commerce market
There's no doubt that e-commerce is growing at a rapid pace. According to a report from eMarketer and as the chart below shows. this market could grow worldwide from $1.47 billion in 2014 to $1.70 billion in 2015 at a growth rate of 16%. Seeing this growth, traditional retailers like Wal-Mart (WMT), Target (TGT), and Best Buy (BBY) have become aggressive in this market.
Each of these retailers reported robust sales online on this year's Thanksgiving weekend. However, each of them has also reported that its margins are declining since the proportion of its online sales is increasing.
Article continues below advertisement
Pure e-commerce players are also struggling to hold on to their margins
The operating margins for pure e-commerce players such as Amazon (AMZN) and eBay (EBAY) continue to decline. Amazon reported an operating margin decline from -0.1% in 3Q13 to -2.6% in 3Q14, while eBay reported an operating margin decline from 26.8% to 23.7%.
The main reason for low operating margins associated with online business is the additional overhead costs that these players have to bear in addition to the competitive prices that they have to maintain online. These are shipping costs and the cost of handling returns. For example, shipping costs as a percentage of revenues for Amazon have increased from 8.9% in 3Q13 to 9.8% in 3Q14.
Everything is not hunky-dory with the e-commerce business. Brick-and-mortar stores complain that being online hurts them on two fronts. One is the low margins associated with this business, and the other is the low footfall in stores, reducing impulse purchases.