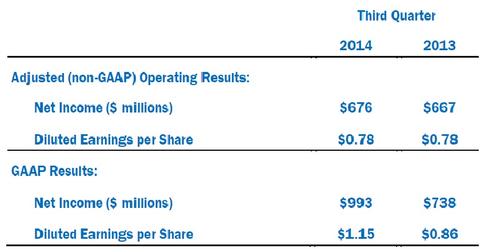 Exelon's 3Q14 results beat Wall Street estimates again
By Matt Phillips

Updated
Exelon sees rise in earnings 
Exelon Corporation (EXC) reported strong third-quarter earnings on October 29, 2014. Exelon posted a profit of $993 million for the quarter, up $255 million from the same quarter last year, as per US GAAP (generally accepted accounting principles) accounting.
On an adjusted (non-GAAP) basis, income for the quarter was $676 million, or $0.78 per share. This is an improvement of $9 million in net income. Earnings per share (or EPS), however, were flat year-over-year.
Earnings beat estimates
Article continues below advertisement
The adjusted profit of $676 million profit translates to EPS of $0.78 in the quarter. This was higher than Wall Street estimates of $0.72. Exelon's revenue for the quarter was $6.9 billion, beating estimates by more than 21%. This is the second successive quarter that Exelon's surprised Wall Street with higher-than-estimated earnings.
Year-over-year growth
Exelon's earnings and revenue have grown on a year-over-year basis. Compared to the third quarter last year, the company's GAAP earnings increased by 35% this quarter. The difference in the GAAP earnings and adjusted earnings is due to non-recurring items such as sale of assets, tax settlements, and hedging profits. Operating revenues for the quarter rose 6.3% year-over-year to $6.9 billion.
Third-quarter earnings for other power companies
The third-quarter earnings season for the power companies began with American Electric Power Company Inc. (AEP), CMS Energy Corporation (CMS), and DTE Energy Co. (DTE) announcing results in the third week of October. The earnings of all three companies missed analysts' expectations. Exelon is the fifth-largest holding of the Select Sector Utilities Select Sector SPDR Fund (XLU).
In this series, we'll be using the adjusted (or non-GAAP) earnings to analyze segment performance. GAAP earnings include non-recurring and one-time line items that may mislead readers from the actual performance of the company's segments.