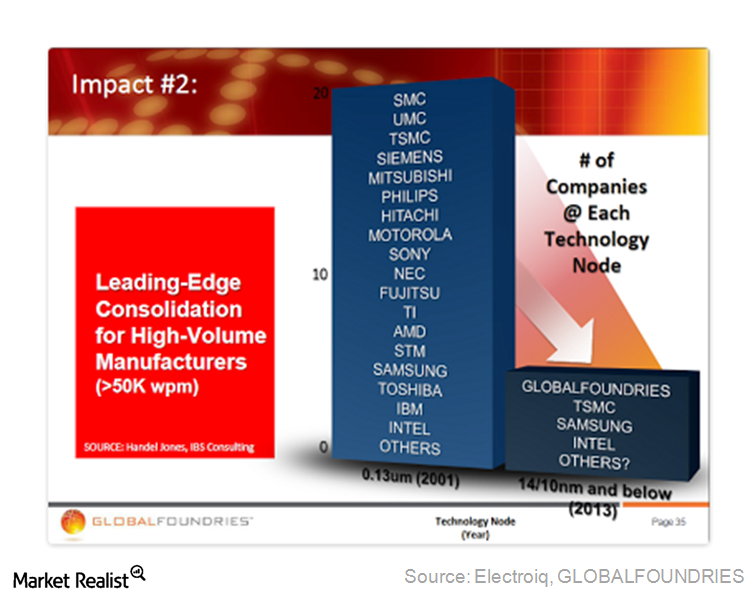 Why AMD entered into a partnership with Synopsys
<p>In September 2014, AMD (AMD) and Synopsys (SNPS) entered into a multi-year agreement. The partnership will give AMD access to a range of Synopsys&#8217; intellectual property. </p>
AMD and Synopsys
In September 2014, AMD (AMD) and Synopsys (SNPS) entered into a multi-year agreement. The partnership will give AMD access to a range of Synopsys' intellectual property (or IP)—like DesignWare interface, memory compiler, logic library, and analog IP on advanced 16/14 nanometer (or nm) and ten nm FinFET process technologies.
As part of the agreement, Synopsys will take ~150 AMD intellectual property (or IP) and research and design engineers. The partnership also gives Synopsys the ability to acquire rights to AMD's interface and foundation IP.
The above chart shows how the industry has strengthened. Only four companies—GlobalFoundries, TSMC (TSM), Samsung (SSNLF), and Intel (INTC)—operate at the 14 nm node. Click here to learn more about Intel's earnings.
Samsung and Global Foundries have collaborated on 14 nm FinFET technology. AMD is expected to benefit significantly from this partnership. It will have access to 16/14 nm and ten nm FinFET process technologies.
Article continues below advertisement
Article continues below advertisement
Synopsys helps implement complex semiconductor devices like accelerated processing units (or APUs), central processing units (or CPUs), and graphics processing units (or GPUs). It provides chip designers with a wide range of high-quality IP for integration into Systems on a Chip (or SoC). It also delivers technical support. Companies are able to save time and money on development of non-critical chip areas.
Partnership boosts AMD's next generation CPU and GPU architectures
According to the agreement, AMD gets access to silicon-proven IP for the chips. It plans to manufacture the chips in the future. This partnership will help AMD bring 16/14 nm and ten nm products to the market earlier and at a much lower cost. AMD mentioned that cost efficiencies—quarterly non-generally accepted accounting principles (or GAAP) operating expense—are expected to be $420–$450 million by the end of 2014.
According to Mark Papermaster, AMD's senior Vice President and CTO, "We have partnered with Synopsys for tools and IP for more than a decade, and this expanded relationship is a great example of leveraging high-quality, standard IP for cost-effective reuse across multiple solutions."