Impending increase in interest rates to affect bonds negatively
By BlackRock

Nov. 26 2019, Updated 2:35 p.m. ET
2. Historically lower interest rates. In our opinion it's inevitable that interest rates are going to rise, and have a potentially negative effect on bonds.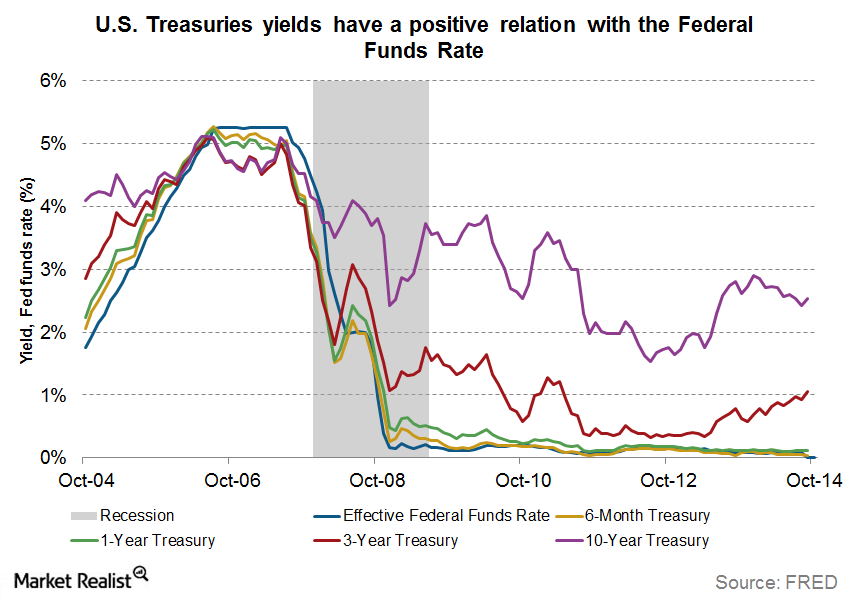 Market Realist – The graph plots U.S. Treasuries for maturities of six months, one year, three years (SHY),  and ten years (IEF) as well as the federal funds rate.
The graph shows that U.S. Treasury yields closely correlate with the federal funds rate. Yields fall as rates fall and rise as rates increase. The present low yields are also partly due to the accommodative monetary policy of the Federal reserve. The Fed has affixed the federal funds rate between 0% and 0.25% as financial stimulus to the economy against the recession following the U.S. financial crisis (XLF).
Historically, bond prices (BND) are adversely affected by any increase in interest rates. Since bond prices and yields are inversely related, an increase in rates causes investors to flee out of bonds, reducing prices and elevating yields.
As the Fed looks all set to hike rates in 2015, an outflow of bond funds could be imminent. A hike in rates isn't conducive to other safe haven assets like gold (GLD) and silver (SLV), so investors in these categories should remain cautious.
An increase in interest rates is good news for investors looking for income in the form of bond yields. However, this good news doesn't improve the outlook for U.S. bond investors. Read on to the next part of this series to learn why.
Article continues below advertisement