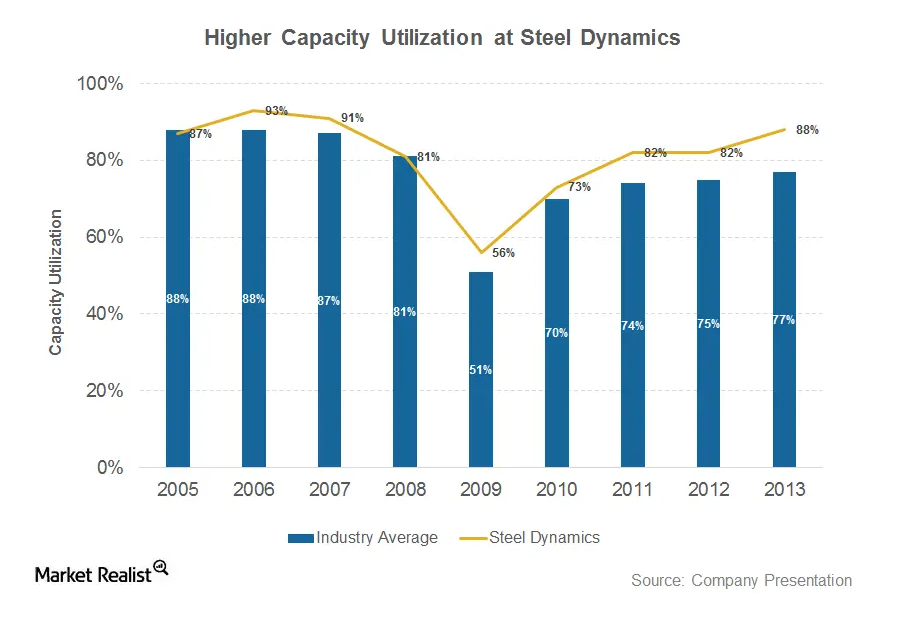 Why the capacity utilization rate came down at Steel Dynamics
Capacity utilization rate drops
We've discussed Steel Dynamics' financial performance in the previous parts in this series. Now, we'll look at other key parameters of its performance. One of the key metrics in the steel industry is the capacity utilization rate. It represents the actual production compared to the maximum possible production. Steel Dynamics' (STLD) capacity utilization came down to 90% in the 3Q—compared to 95% in the 2Q.
Article continues below advertisement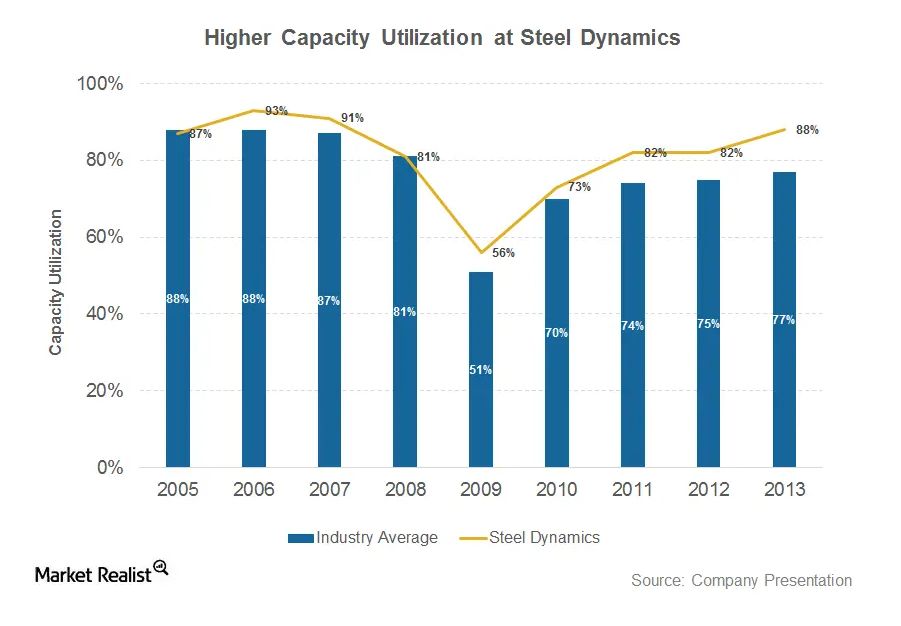 One of the highest utilization rates
Steel Dynamics has consistently achieved capacity utilization above the industry average. This can be verified in the above chart. In fact, this has been one of STLD's key differentiators.
Article continues below advertisement
The steel industry is plagued by massive overcapacity. This impacted steel companies' profitability. The capacity utilization rate is a key metric for steel companies like ArcelorMittal (MT), U.S. Steel Corp. (X), and AK Steel (AKS). These companies are part of the SPDR S&P Metals and Mining ETF (XME).
In the 3Q, STLD's capacity utilization came down. In contrast, total sales hit a record level. This was mainly due to an increase in installed capacity. The increase was at one of its plants. Another factor was an outage at its Butler plant. The plant was closed for four days. This led to reduced production.
Working capital decreases
Steel Dynamics' steel shipments exceeded steel production in the 3Q. This was due to a growth in sales. There wasn't a matching increase in steel production. As a result, Steel Dynamics has been able to reduce its inventories. By reducing its inventories, Steel Dynamics increased its cash flows in the 3Q. It generated $249 million of operating cash flows in the 3Q. Out of this, $86 million came from a reduction in working capital.
While operating cash flows increased in the 3Q, the ending cash balance actually came down. We'll discuss this in the next part of the series.