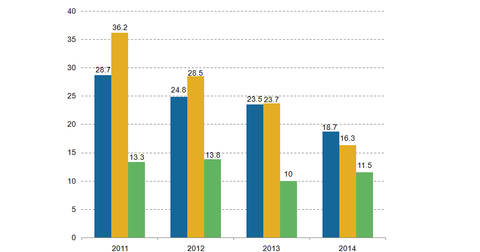 AMD targets gaming market for its semi-custom chip operations
By Anne Shields

Updated
Gaming market strategy
At the Game Developers Conference (or GDC) in March 2013, AMD (AMD) launched its unified "gaming strategy" for the global gaming market. The strategy included consoles, cloud platforms, tablets, and PCs that form the gaming universe. It believed that gaming is one of the key pillars of its semi-custom chip business.
All three of the major console providers—Nintendo's (NTDOY) Wii U, Microsoft's (MSFT) Xbox One, and Sony's (SNE) PlayStation—use the 4×86 central processing unit (or CPU) and the DirectX 11 graphics processing unit (or GPU).

The above chart shows the console sales that were achieved by the top three players in the global console market.
Radeon R7 and R9 graphics cards 
In its 2014 GPU Product Showcase, AMD announced the next generation product—the Radeon R7 and R9 video cards. The R7 is more affordable. It caters to AMD's lower-end mainstream parts.
The R9 targets higher-end enthusiasts and gamers. It also launched the 290X card. It's capable of five teraflops of compute power. It's one of the most powerful GPUs in the market. It has 300 gigabytes (or GB) per second of memory bandwidth.
The R7 and R9 graphic cards are designed to provide ultra resolution gaming and real world sound simulation for the entertainment and gaming market.
Collaboration with game developers
In March 2014, AMD announced partnerships with three game developers—Rebellion Developments, Square Enix, and Xaviant—for AMD Gaming Evolved. The partnerships would create an enhanced and quality PC gaming experience.
Growth opportunities 
Article continues below advertisement
With the current architecture, game developers have to use different methods to port their games between consoles and PCs. Microsoft's Xbox 360 uses a custom PowerPC chip and custom GPU. Sony's PlayStation 3 (or PS3) uses a custom chip designed by IBM (IBM). Custom chips are very powerful and quite complex to learn. This explains the amount of time required for PS3 games to appear in the market. There's a massive learning curve.
According to Jon Peddie Research, the PC gaming market was worth $18 billion in 2013. It's expected to grow to $21 billion by 2016.
Visit the Market Realist Tech, Media, & Telecom page to learn more.