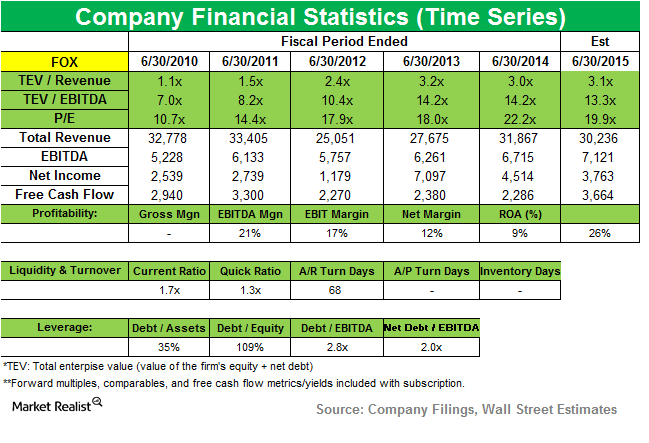 Why ValueAct Capital starts new position in 21st Century Fox
ValueAct Capital and 21st Century Fox
Jeffrey Ubben's ValueAct Capital added new positions in Armstrong World Industries (or AWI) and 21st Century Fox (FOX). It exited positions in Symantec Corp. (SYMC) and Micros Systems Inc. (MCRS). Top position increases were Microsoft Corp. (MSFT) and CBRE Group (CBG).
ValueAct Capital initiated a new position in 21st Century Fox (FOX). It's a diversified global media and entertainment company. FOX accounts for 0.67% of the fund's first quarter portfolio. The fund acquired FOX's Class B voting stock. An unconfirmed Bloomberg report in August said the fund has accumulated a new $1 billion stake in 21st Century Fox.
Overview of Fox
Article continues below advertisement
21st Century Fox is home to a global portfolio of cable and broadcasting networks and properties including—FOX, FX, FXX, FS1, Fox News Channel, Fox Business Network, Fox Sports, Fox Sports Network, National Geographic Channels, Fox Pan American Sports, MundoFox, and STAR. It includes the film studio 2st Century Fox Film. It also includes television production studios 21st Century Fox Television and Shine Group.
The company provides premium content through its pay-television services in Europe and Asia. The services include Sky Deutschland, Sky Italia, and its equity interests in BSkyB and Tata Sky. 21st Century Fox manages and reports its businesses in the following five segments:
Cable Network Programming – the production and licensing of programming distributed through cable television systems, direct broadcast satellite operators, and telecommunication companies in the U.S., Latin America, Europe, and Asia.
Television – the broadcasting of network programming in the U.S. and the operation of 28 full power broadcast television stations, including ten duopolies, in the U.S.
Filmed Entertainment – the production and acquisition of live-action and animated motion pictures for distribution and licensing in all formats in all entertainment media worldwide. It also includes the production and licensing of television programming worldwide.
Direct Broadcast Satellite Television – the distribution of programming services through satellite, cable, and broadband directly to subscribers in Italy, Germany, and Austria.
Other, Corporate, and Eliminations – corporate overhead and eliminations and other businesses.
Fox withdraws bid for TWX

In August, Rupert Murdoch 's 21st Century Fox said it has abandoned its $80-billion takeover bid for peer Time Warner (TWX). TWX rejected the bid in July. Fox said that Time Warner's management and its board refused to engage with the company to explore an offer. Also, investor concerns regarding the proposed merger weighed on Fox's stock price. It undervalues the stock. This makes the transaction unattractive to its shareholders. Recently, the cable and telecom space has seen consolidation. Comcast Corp. is waiting for regulatory approval to buy rival Time Warner Cable. AT&T Inc. has made a move to acquire satellite TV service DirecTV.
Transfers interests in Sky Italia and Sky Deutschland to BSkyB
Article continues below advertisement
Fox said in July that it will transfer Sky Italia and its 57.4% interest in Sky Deutschland to BSkyB for ~$7.2 billion to create a pan-European digital television leader through the combination of these assets. The company said "This transaction significantly enhances liquidity on our balance sheet to support our key operating principles including the consistent return of capital to shareholders."
After the withdrawal of the offer for Time Warner, Fox said its board authorized a $6 billion share repurchase program.
Revenues rise
Fox's fiscal 4Q14 revenues and earnings beat estimates. The company reported quarterly revenues of $8.42 billion—a 17% increase over last year's quarterly revenues of $7.21 billion. It said the "growth reflects a substantial increase at the Filmed Entertainment segment, led by higher theatrical revenues, and strong double-digit growth at the Cable Network Programming and Direct Broadcast Satellite Television (or DBS) segments from higher affiliate and subscription revenues, respectively." The filmed entertainment segment saw strength with global box office success of X-Men: Days of Future Past, Rio 2, and The Fault In Our Stars.
Fox reported annual revenues of $31.87 billion—a 15% increase over last year's revenues of $27.68 billion. This was due to increases in subscription, affiliate fees, and content and advertising revenues.