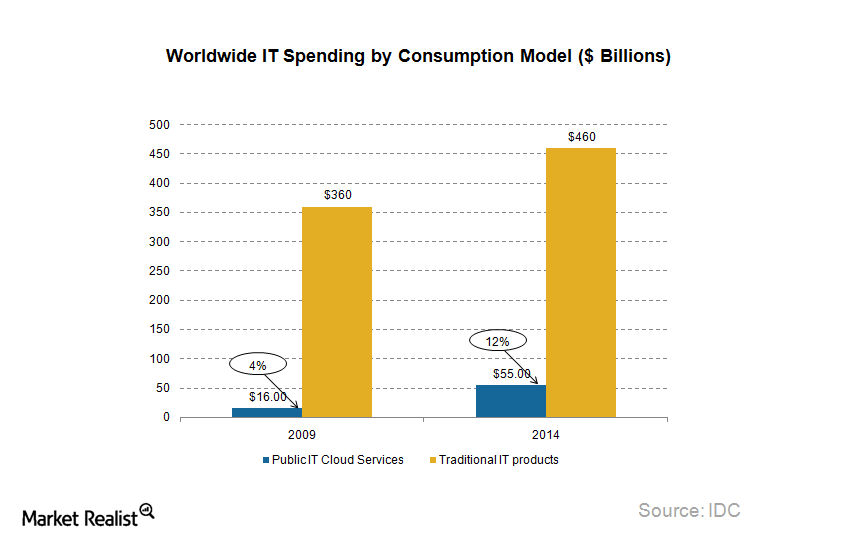 Why increased cloud adoption helps Salesforce.com's business
SMAC is challenging business strategy adopted by technology players
The increased adoption of social, mobile, analytics and cloud (or SMAC) is rapidly changing the IT environment. It's pushing organizations and leading technology players to transform their business strategy in order to stay competitive. Increased adoption and preference for Software as a Service (or SaaS) by enterprise resource planning (or ERP) and customer relationship management (or CRM) software companies pressures the revenue model of leading software companies—like Oracle Corp. (ORCL), IBM Corp. (IBM), and Microsoft Corp. (MSFT). It pushed them to invest a billion dollars in cloud-related products, solutions, and initiatives.

The previous chart shows the rapid growth of cloud services. In 2009, spending on IT cloud services accounted for 4% of overall spending. That figure is forecast to reach 12% in 2014.
Salesforce pioneered the SaaS model
Article continues below advertisement
Article continues below advertisement
Salesforce.com (CRM) got ~94% of its fiscal 2014 and six months ending FY15 revenue from subscription and support fees. The fees are associated with cloud services. This implies that it has a huge investment in cloud-based application services. Salesforce.com offered solutions as a system for customer relationship management (or CRM) through cloud.
It pioneered the SaaS model. SaaS is a subscription-based service. It allows companies to access software online. Companies only pay for the services and applications used. It serves as a cost effective solution for companies with low IT budgets. Employing SaaS can help companies save on the cost and time involved in purchasing and implementing expensive software. Data security is a key concern with SaaS. GTRA research estimates that 75% of large companies are concerned about cloud computing security breaches.
Gartner reported that in 2013, 40% of the CRM software sold was SaaS-based. Salesforce.com is a leader in this segment. It acquired ExactTarget and RelateIQ. It will benefit from this trend.
Diversified Cloud-based offerings complement its CRM portfolio
To benefit from the rapid growth in the cloud space, the company has launched a series of cloud-based software applications to grow organically. It launched:
Force.com – an application development platform for corporate IT departments and independent developers
AppExchange – an online directory that allows customers to browse, test-drive, share, and install applications developed on the Force.com platform
Chatter – an enterprise social network
Database.com – a cloud-based database offering
Data.com – a platform that delivers business data into CRM
Desk.com – a social customer support service
Heroku – a Ruby application platform
Salesforce1 Community Cloud – a service that allows customers to build and operate public websites and applications that are similar to online social media communities like LinkedIn (LNKD)
The substantial growth in cloud adoption will benefit Salesforce.com. Salesforce is fast. It also offers easy implementation and lower ownership costs.