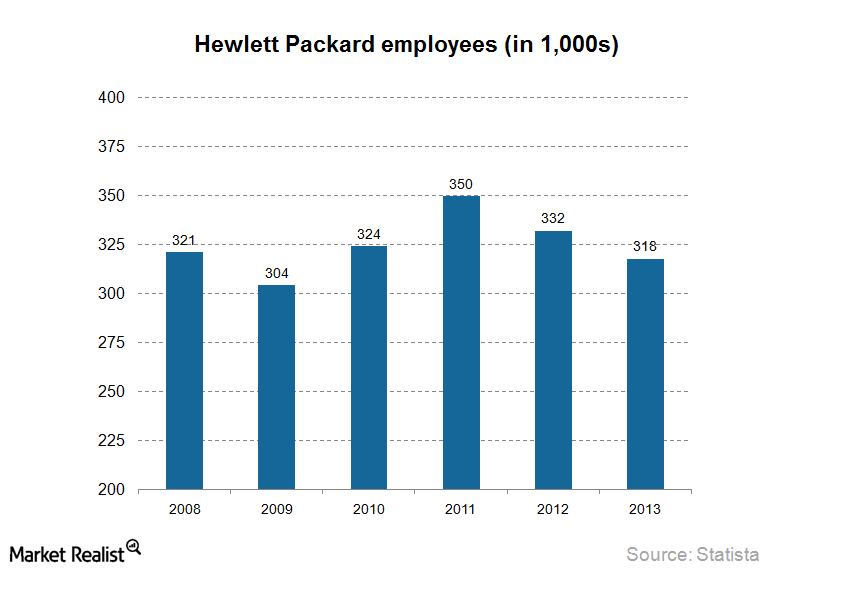 Why HP resorted to layoffs to reduce its costs
By Anne Shields

Dec. 4 2020, Updated 10:53 a.m. ET
SMAC is transforming IT environment
Social, mobile, analytics, and cloud (or SMAC) is a disruptive technology that's transforming the current IT environment at a rapid pace. Many technology leaders, who failed to acknowledge its importance or were slow in embracing it, are suffering. This is evident by their falling or flat revenue figures. Hewlett-Packard (or HP) (HPQ) seen a fall in PC sales, a decline in printer demand, and a negligible presence in tablets with no smartphones. HP has been impacted by SMAC.
Article continues below advertisement
To control costs, HP announced layoffs as a part of its restructuring plan. The entire IT and software industry is overwhelmed with layoff announcements made by its leading players. In 2014, IBM (IBM) announced 15,000 job cuts. In 2012, Yahoo (YHOO), Google (GOOGL), and Cisco (CSCO) announced 2,000, 4,000, and 1,300 layoffs, respectively.
Layoffs
Falling revenues forced HP to keep track of its costs. For technology companies, employee costs form a significant part of the operating expenditure. In 2012, as a part of its multi-restructuring plan—that involved aligning business and systems improvement—HP announced the elimination of 34,000 positions. In May 2014, they announced more layoffs. HP's CEO Meg Whitman expect the layoffs to result in cost savings of ~$1 billion in fiscal 2016. The savings could be invested into new technologies and skills to revive growth.

The above chart shows the number of employees that HP has had over the years. Since the restructuring plan was implemented, employee strength has decreased.
3Q14 earnings impacted by severance and restructuring charges
In 3Q14, HP posted generally accepted accounting principles (or GAAP) earnings that were down 29% on a year-over-year (or YoY) basis. The decline was a result of $649 million charges because of layoffs and other restructuring moves. The company is in the process of discontinuing of some product lines. This will eliminate ~11,000–16,000 jobs by October 2014. This is in addition to the 34,000 employees that it has already eliminated. The total number of layoffs is 45,000–50,000.
Layoffs impact employee morale. Layoffs also impact their engagement. They directly impact HP's operations. It remains to be seen if HP is able to rebalance its workforce and adjust to the technology shifts. If it doesn't manage to adjust, it could announce another round of layoffs as a way to cut costs.