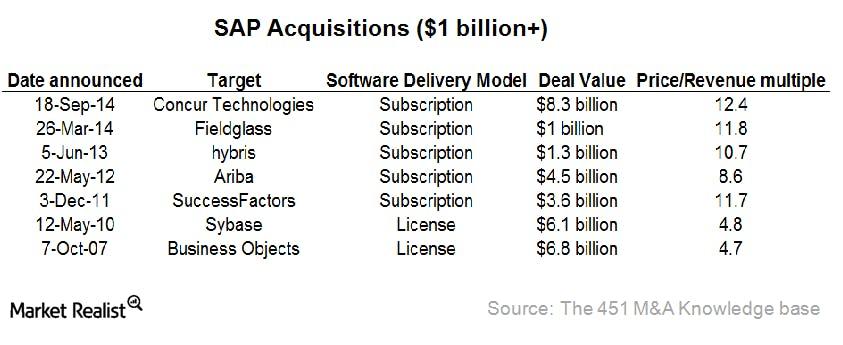 Must-know: Concur is the biggest acquisition in SAP's history
Concur is SAP's largest acquisition
Since 2010, SAP AG (SAP) spent more than ~$12 billion on acquisitions. Concur Technologies is the largest acquisition in SAP's 42-year history. The cloud space has experienced high growth. As a result, there has been merger and acquisition activity. In 2014, Microsoft (MSFT) acquired InMage, GreenButton, Capptain, and Parature—all operating in the cloud.
Article continues below advertisement
SAP also resorted to acquisitions to build up its domain expertise and expand its presence in the cloud market. In 2012, SAP acquired Ariba. Ariba is a leader in the cloud-based collaborative commerce applications. SAP acquired it for $4.3 billion. In March 2014, it acquired Fieldglass. Fieldglass is a vendor management systems provider. It provides tools to help organizations manage their employee and supplier relationships.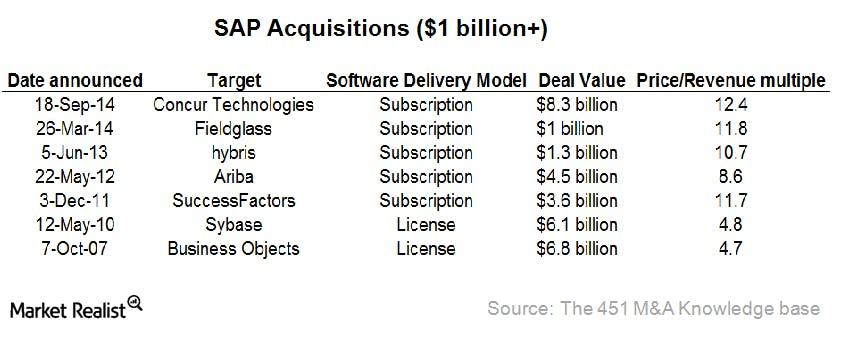 Article continues below advertisement
The above chart shows that SAP announced seven buyouts in the last few years. The buyouts were valued $1 billion or more. The majority of the acquisitions were targeted in the cloud space. Concur Technologies is the largest acquisition.
Growth in the cloud offerings boosts SAP's growth
In its 2Q14 results, most of SAP's growth was from its cloud business—approximately $1 billion annually. SuccessFactors and Ariba contributed to ~95% of the growth in the cloud space. Concur's management mentioned that they expect to end fiscal year 2014 with ~$690 million. The year ends in September.
According to Diginomica, Concur has a global customer base of ~20,000 businesses. Its key customers include American Express (AXP), Automatic Data Processing (ADP), and Salesforce.com (CRM).
All of these figures provide an optimistic view of SAP's growth in the cloud space. However, SAP has to integrate its strategic acquisitions effectively. It has to use and overlap its products.
To learn how SAP fared in its 2Q14 results and how its acquisitions are in line with its cloud strategy, please click here.