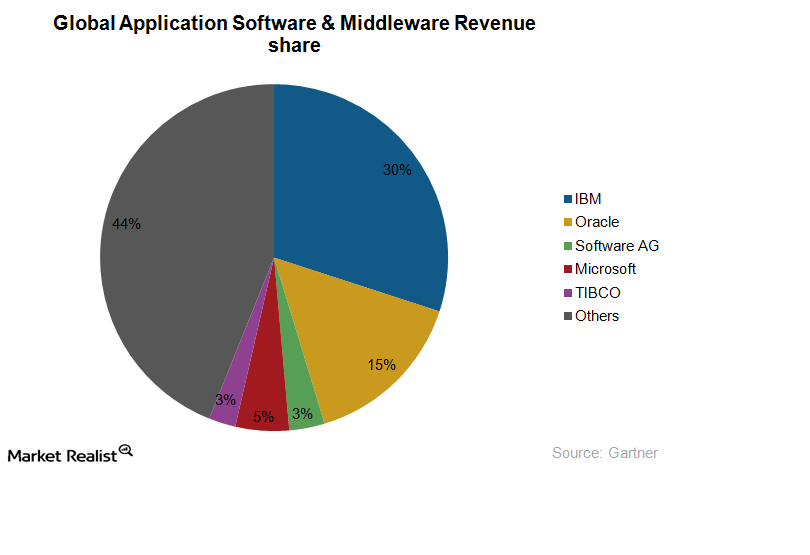 Why middleware is an integral component of software industry
Middleware
Middleware and tools includes intermediary software that's positioned between system infrastructure and application software, allowing them to interact with each other. It supports the planning, design, construction, quality control, and operation of applications. Its primary function is to link system and application software.
IBM is the market leader
The chart above shows the global revenue of application and middleware software in 2013. IBM Corp. (IBM) leads the application infrastructure and middleware market with a market share of 30% in 2013. It's followed by Oracle Corp. (ORCL) and Microsoft (MSFT) which command 15.3% and 5% of the market, respectively. Software AG (SOW) and Tibco Software Inc. (TIBX) are other leading players in this segment.
Enterprise application integration
The sequential binding of applications through the use of middleware is known as enterprise application integration (or EAI). Through EAI, a business can integrate all their support systems and reduce the duplication of data, costs of maintenance, and time to fulfill customer orders.
Article continues below advertisement
EAI does this by building a transition layer that handles all communication between systems—acting as a hub. Then all the subsystems only interact with the hub. They don't interact with the other subsystems because the hub is responsible for all the communication and transformations between subsystems. As a result, the maintenance needs of the system are simplified. The IBM Corp. (IBM) WebSphere is an example of how this integration process is achieved.
According to Gartner, middleware (along with application software) are quickly becoming the cornerstones of digital business. The use of multiple delivery models, increased reliance on governance technologies, and the convergence of application and data integration requirements are expected to be the key factors to generate significant investment in this market. According to Ovum, middleware is expected to grow at a compound annual growth rate (or CAGR) of 9.1% to reach $17.9 billion by 2018.