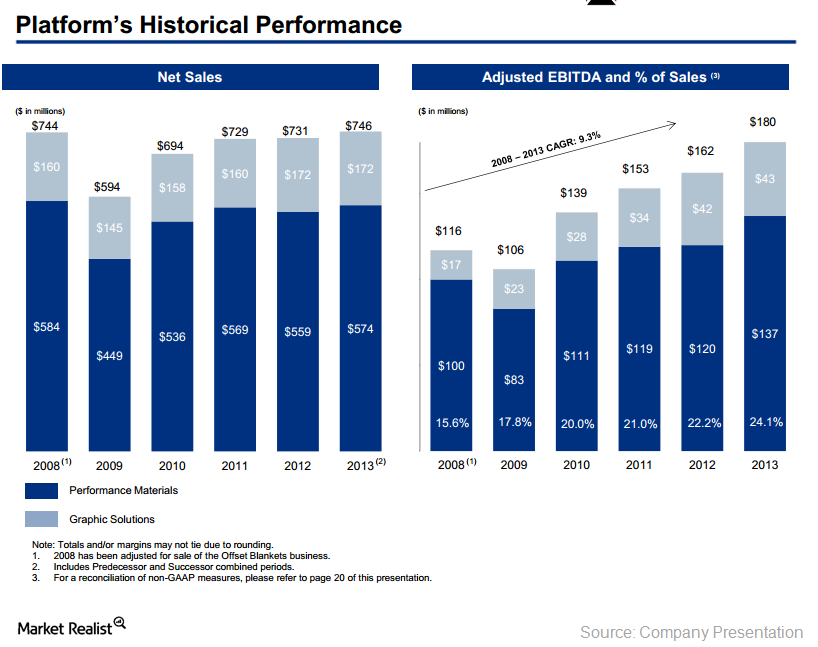 Why Pershing Square initiated a position in Platform Specialty Products
Pershing Square initiated a position in Platform Specialty Products
Bill Ackman's Pershing Square took new stakes in Platform Specialty Products (PAH), Apartment Investment & Management Company (AIV), Allergan Inc. (AGN), and Home Properties Inc. (HME). Positions sold include General Growth Properties (GGP) and Procter & Gamble Co (PG).
Pershing Square disclosed a new position in Platform Specialty Products (PAH) that accounts for 7.58% of Pershing Square's 1Q14 portfolio.
Article continues below advertisement
In a 13G filed in January, Bill Ackman's Pershing Square disclosed a position in Platform Specialty Products Corporation (PAH). The holding comprises 29,166,665 common shares and 12,500,001 warrants to purchase an additional 4,166,667 common shares of PAH. This amounts to a 30.9% ownership of Platform Specialty Products.
Platform Specialty Products is a global producer of high technology, specialty chemical products and a provider of technical services. Its business involves manufacturing a broad range of specialty chemicals, which are created by blending raw materials, and then incorporating these chemicals into technological processes with multiple steps. Together, these specialty chemicals and processes encompass the products PAH sells to its customers in the electronics, metal and plastic plating, graphic arts, and offshore oil production and drilling industries. It has two operating segments—a performance materials segment and a graphic solutions segment.
In April, Platform Specialty Products acquired agrochemicals business, Chemtura AgroSolutions, from Chemtura Corporation for approximately $1 billion. The consideration will be funded with $950 million in cash and two million shares of Platform's common stock. Chemtura AgroSolutions generated revenues of $449 million and adjusted EBITDA of $101 million for the year ending on December 31, 2013. The business provides seed treatment and agrochemical products for a wide variety of crop applications in attractive geographies.
Article continues below advertisement
For 1Q14, PAH beat revenue and earnings estimates. Net sales grew 1% organically year-over-year (or YoY) to $183.7 million. It saw a $5.9 million net loss in the first quarter of 2014, versus an income of $15.3 million in 2013. Adjusted EBITDA was up 12.2% YoY to $45.9 million while adjusted gross margin was 52.3%. The Performance Materials segment reported sales of $143.1 million and the Graphics Solutions segment totaled $40.6 million in sales, representing a 3.1% increase and a 6.2% decrease, respectively. The increase in net sales was due to higher demand for electronic products in Asia.
On its earnings call under Performance Materials, the company said its electronic solutions product line continued its penetration into the smartphone and tablet markets, gaining new applications that have further increased margins. Platform said last year that its customers included LG, Molex, Samsung, FIAT, Ford, GM, Stanley Black & Decker, and major companies in the offshore oil and gas industries. The Graphic Solutions segment showed continued customer penetrations with LUX product offering, which were offset by anticipated headwinds in P&C product lines. It said it saw secular decline in its coating plates products serving the newspaper market. The Graphic Solutions segment primarily produces and markets photopolymers through an extensive line of flexographic plates that are used in the commercial packaging and printing industries.
For more on Pershing's investment in PAH, please read Why Pershing Square bought stake in Platform Specialty Products.