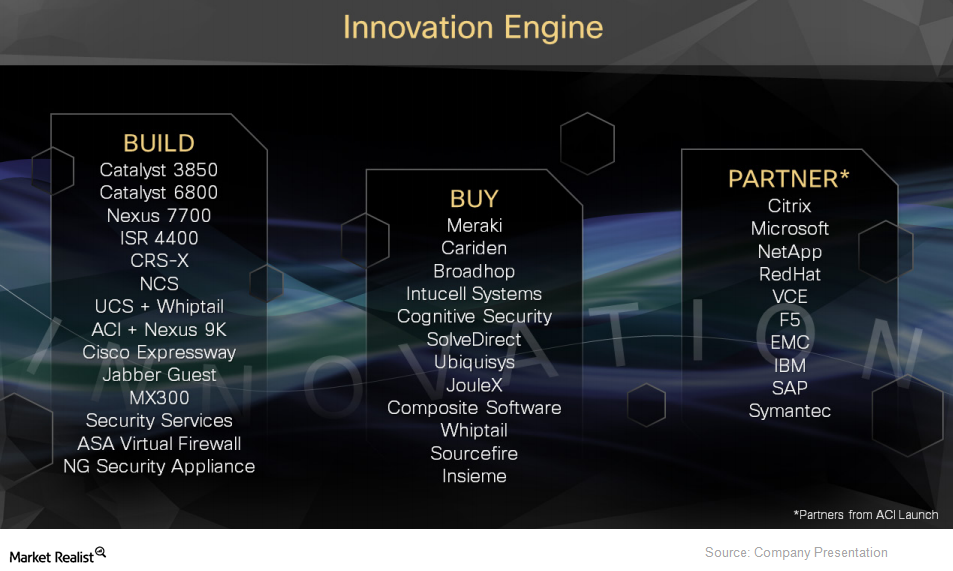 Cisco sticks to its "build, buy, partner, and integrate" strategy
Cisco's acquisitions
Cisco has beefed up its product portfolio with acquisitions since 1993, with the acquisition of ethernet switch maker Crescendo Communications. Since then, the company has grown by acquiring innovative companies rather than develop the technology from scratch. Cisco invested $6.8 billion in acquisitions during fiscal 2013 and closed 13 strategic acquisitions.
The networking giant said in its filing, it intends to continue to address the need to develop new products and enhance existing products through acquisitions of other companies, product lines, technologies, and personnel. The "build, buy, partner, and integrate" approach is at the heart of Cisco's innovation culture.
Article continues below advertisement
Cisco states on its website that it segments acquisitions into three categories: market acceleration, market expansion, and new market entry. The target companies may bring different types of assets to Cisco, including great talent and technology, mature products and solutions, or new go-to market and business models. Cisco particularly seeks acquisitions with the potential to reach billion-dollar markets. It looks for acquisitions where there is not only a strong business case but also a shared business and technological vision, and where compatibility of core values and culture foster an environment for success.
CEO John Chambers said in 2011 that some of the past acquisitions which acted as milestones in Cisco's market transition included Crescendo in the switching market, Scientific Atlanta in the service provider market, WebEx in the collaboration and Web 2.0 categories, and the 2008 'spin in' of Nuova Systems, which offered high-performance data center networking equipment. An article last year on Cisco's blog site by head of development Hilton Romanski noted that Cisco expanded into new disruptive markets, such as switching, with acquisitions of companies like Crescendo, Grand Junction and Granite. Later, Cisco extended into areas where major transitions continue to take place today, such as collaboration, mobility, data center, and video with deals like WebEx, Starent, Meraki, Nuova, and NDS.
Article continues below advertisement
Cisco's strategy, which was announced by Chambers in 2011, is focused on leadership in core business (routing, switching, and associated services), which includes comprehensive security and mobility solutions; collaboration, including telepresence; data center virtualization and cloud; video; and architectures for business transformation.
In 2009, Cisco unveiled Unified Computing System and entered the data center space that was dominated by Hewlett-Packard (HPQ) and IBM (IBM). Its data center strategy was boosted by the $105 million acquisition of Tidal Software in April 2009, which offered intelligent application management and automation solutions. With an aim to develop innovative data center, virtualization, and cloud technologies, the company acquired Cloupia, a software company that automates converged data center infrastructure, in 2012. The WHIPTAIL acquisition last year is expected to strengthen Cisco's Unified Computing System (UCS) strategy and enhance application performance by integrating scalable solid state memory into the UCS's fabric computing architecture.
Software defined networking (or SDN) space expansions included integration of spin in Insieme Networks, and vCider, which has expertise in the development of virtual network overlay technology for secure data center infrastructure. Cisco also bought JouleX last year, which enhances the company's software-as-a-service offerings with energy management for enterprise networks and data center infrastructures. News reports in 2012 stated that Cisco was overtaken by VMware in the acquisition of software-defined networking startup Nicira. The acquisition enabled VMware to launch its network virtualization platform called NSX last year. The SDN space has seen M&A activity since 2012, with Juniper Networks' buy of Contrail systems, Brocade's acquisition of Vyatta, and acquisitions of Xsigo and Corente by Oracle.
Article continues below advertisement
Notable acquisitions in cloud management include LineSider, NewScale, and Meraki, which offered midmarket customers easy-to-deploy on-premise networking solutions that can be centrally managed from the cloud. In 2013, Cisco acquired Collaborate.com to help capture the market transition in mobility and cloud, and also bought SolveDirect and Composite Software, which offered data virtualization software and services.
On the mobility side, the Cariden acquisition, in 2012, supported Cisco's Open Network Environment (ONE) strategy by providing sophisticated wide area networking (WAN) orchestration capabilities. Cisco also acquired BroadHop, a provider of next-generation policy control and service management technology for carrier networks worldwide. Last year, Cisco acquired Intucell, which provides advanced self-optimizing network (SON) software, which enables mobile carriers to plan, configure, manage, optimize, and heal cellular networks automatically, according to real-time changing network demands. The $310 million acquisition of UK-based Ubiquisys further reinforced Cisco's commitment to service providers and strengthened its mobility expertise. Ubiquisys provides intelligent 3G and LTE (Long-Term Evolution) small-cell technologies that provide seamless connectivity across mobile heterogeneous networks for service providers.
Article continues below advertisement
Cisco enhanced its security offering last year with the purchase of Cognitive Security, which is focused on taking cutting edge research in the field of network security and applying artificial intelligence techniques to detect advanced cyber threats. In October, it announced acquisition of intelligent cybersecurity solutions provider Sourcefire to defend networks, which goes beyond traditional firewalls and includes data centers, endpoints, virtual and mobile to make up the extended network. Cisco's previous acquisitions included ScanSafe, IronPort, and cloud security startup Virtuata. The security space is seeing consolidation as Cisco and other security companies have been losing market share to cybersecurity upstarts such as FireEye (FEYE), and Palo Alto Networks, Inc. (PANW). Network security peer Palo Alto Network said on its earnings call that it benefited from the Sourcefire acquisition and, "we've been able to develop hundreds and hundreds of leads from dissatisfied or confused Sourcefire customers." Recently, the heartbleed internet bug was said to have affected the products of network gear makers such as Cisco and Juniper.
In terms of video, Romanski said on the company blog that Cisco delivered on its software-based Videoscape architectural strategy via a series of well-mapped acquisitions, ending with the $5 billion acquisition of NDS in 2012. NDS offers video software and content security solutions for service providers and media companies to securely deliver and monetize new video entertainment experiences. Cisco's open, standards-based Videoscape platform spans the cloud, the network and end-user clients and is a key part of the company's overall video strategy to make access to content more visual, mobile, and social for consumers.
To counter rival Polycom (PLCM), Cisco strengthened its Telepresence portfolio with the acquisition of a Norwegian video communications company Tandberg in 2009. Tandberg, which was the market leader in videoconferencing back then, had a product portfolio comprising video endpoint and network infrastructure solutions.
However, Cisco has not always been successful with its acquisitions and had to exit some of its unprofitable units. These include the $590 million acquisition in 2009 of Pure Digital Technologies, which made the Flip Video camcorder. The business was shuttered in 2011 as part of the restructuring, and the news reports speculated that the product saw competition from smartphones that included cameras. Cisco also exited the home networking market by selling Linksys, which was acquired in 2003, to privately held Belkin last year. It also killed its home videoconferencing system Umi in 2012, as a part of its shift in focus to enterprises and service providers.