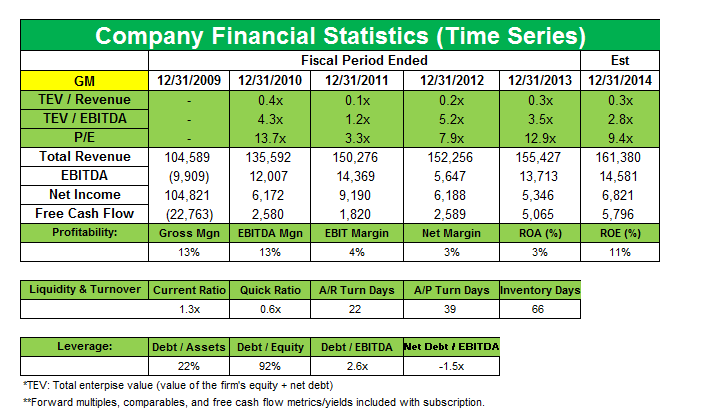 Why did JANA Partners boost its position in General Motors?
JANA Partners enhanced its position in General Motors Company (GM) from 0.17% to 4.23% last quarter.
The automaker was a hedge fund favorite last quarter with George Soros, Bronson Point Management, Third Point, Omega Advisors, and Hayman Capital taking/increasing stakes in General Motors. In December, the U.S. Treasury Department announced that the government has sold its remaining shares of General Motors (GM) bringing an end to the $49.5 billion bailout of the automaker. The government said it lost about $10.5 billion on its investment which helped GM avert a liquidation and reorganize itself post a bankruptcy in 2009. The government received $2.1 billion in preferred GM stock and a 60.8% stake in the automaker in exchange for the bailout, which led critics to dub GM as "Government Motors." The Center for Automotive Research said the bailouts of Chrysler and GM provided a net economic gain for the country and saved about 2.6 million jobs.
The company said it will pay shareholders a quarterly dividend on its common stock of $0.30 a share for the first time since 2008, and said the return "is consistent with our capital priorities and is an important signal of confidence in our plans for a continuing profitable future."
Article continues below advertisement
Article continues below advertisement
General Motors missed street estimates in its fourth quarter results. The automaker reported a 22% decline in net profit to $3.8 billion for all of 2013, while fourth-quarter net income was up 2% to $913 million or $0.67 per share. Revenue in the fourth quarter of 2013 increased 3% to $40.5 billion. For the full year, revenue increased 2% to $155.4 billion, compared with $152.3 billion in 2012.
The earnings miss was due to higher tax rates and restructuring costs related to the exit of the Chevrolet brand from Europe as well as termination of manufacturing operations in Australia. The company saw strength in North America, driven by the Cadillac and truck launches, and China, but saw continued losses in Europe. In North America, the company's pre-tax earnings increased to $1.9 billion for 4Q 2013. In Europe, the automaker saw losses narrowed to $800 million in 2013 from $1.9 billion in 2012. GM's international operations earned $200 million in the fourth quarter, down from $700 million in 2012.
General Motors said the U.S. auto sales fell 12% in January compared to the same month last year because of the extreme cold weather. Dealers delivered 171,486 vehicles in the U.S. in January 2014. Retail sales were down 10% year-over-year, although retail deliveries of passenger cars went up slightly. Fleet deliveries declined 18%, due to a planned reduction in rental vehicle sales. Retail sales of Chevrolet cars went up 8% led by gains for the Sonic, Malibu, Impala, and Corvette. Retail deliveries of the Buick Regal and Encore were also up.
Article continues below advertisement
GM expects light vehicle sales for 2014 to be in a range of 16 million to 16.5 million units, and expects to earn a modestly higher market share in this environment. GM also expects to grow its commercial fleet business in 2014 with the ongoing launches of the all-new Silverado and GMC Sierra heavy-duty pickups, and the fall launches of the Chevrolet City Express small van, and the Chevrolet Colorado and GMC Canyon midsize pickups. GM expects flat deliveries to rental companies compared to 2013.
The company is facing intense competition in the pick up trucks segment from Ford (F)'s F-series, and offered deep discounts on its Chevrolet Silverado and GMC Sierra trucks during the recent national Presidents Day sale. CEO Marry Barra said on the earnings call that "We will maintain our pricing discipline, but we will also walk in and react to the market to make sure we're competitive within the market."
In terms of the 2014 earnings outlook, the company said, "This year we'll leverage our strength in the U.S. and China to execute important restructuring activities in other key global operations." The automaker said it expects earnings to improve "modestly" this year.
Despite the lackluster earnings, analysts are currently bullish on the stock. GM has also been in the news recently over a recall of more than 1 million cars including Chevrolet Cobalts, Pontiac G5, and Saturn Ions models due to a faulty ignition switch that can unexpectedly shut off the engines and cause crashes. The stock is down almost 12% YTD.