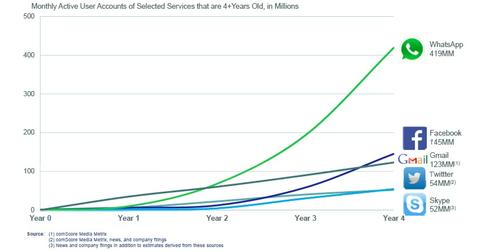 Facebook's latest acquisition: WhatsApp's growth and market share
By Puneet Sikka

Updated
Competition
WhatsApp competes with apps such as Line and WeChat in the mobile messaging industry, but it's the global leader and is quite popular—especially in Europe, Latin America, and Asia. The below chart shows that during the first four years of operation, the number of users on WhatsApp had grown faster than other comparable networks such as Facebook, Gmail, Twitter, and Skype. By the end of its fourth year, WhatsApp had 419 million monthly active users, while Facebook had 145 million, Gmail 123 million, Twitter 54 million, and Skype 52 million. During the conference call regarding the acquisition, Facebook mentioned that WhatsApp currently has 450 million monthly active users and more than 1 million new people are signing up every day. Of this number, 70% of users are active on a given day.
Article continues below advertisement
On WhatsApp's potential growth prospects, Facebook CEO Mark Zuckerberg commented, "And then we believe that once we get to being a service that has billion, two billion, maybe even three billion." Plus, Zuckerberg noted that the messaging volume running through WhatsApp is approaching the scale of the entire telecom SMS messaging volume. The Facebook CEO also praised WhatsApp for its high engagement rates, noting, "In fact, WhatsApp is the only widely used app we've ever seen that has more engagement and a higher percent of people using it daily than Facebook itself." While the company is relatively unknown in the U.S., WhatsApp has a strong userbase in Europe, India, and Latin America.
Read on to the next part of this series to find out why WhatsApp will likely remain ad-free while other social media networks drive revenues through advertisements.