Must know: Why Appaloosa opened a new position in Halliburton
Appaloosa Management initiated a 0.63% position in oilfield service company Halliburton (HAL) last quarter.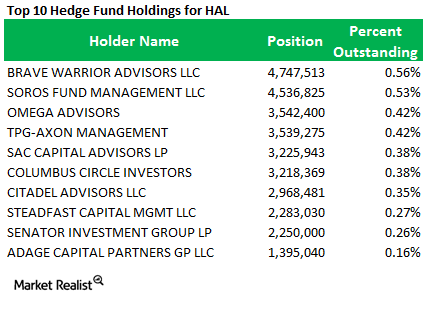 Appaloosa Management initiated a 0.63% position in oilfield service company Halliburton (HAL) last quarter. The company serves the upstream oil and gas industry throughout the life cycle of the reservoir—from locating hydrocarbons and managing geological data, to drilling and formation evaluation, well construction and completion, and optimizing production through the life of the field.
The world's second-largest oilfield services company saw its share price rise in 2013 on the back of robust international drilling and offshore activity and improvement of operations in North America. On its November analyst day, Halliburton said it saw the fastest growth in international markets among its peer groups coupled with an organic growth of over 70% in North America. The company said the deepwater market remains a tremendous growth opportunity and expects to outgrow the market by around 25%. Beginning with the Golden Triangle (Brazil, West Africa, and the Gulf of Mexico) in 2010, the company has expanded its business in all deepwater markets globally. The company has access to reserves as well as the technologies required to drill in the challenging environment. Halliburton expects the core deepwater business to remain centered around the Golden Triangle for the next five years and is poised to benefit from this due to its contract portfolio. The company said it stays committed to further tripling of its mature fields revenues to $9 billion over the next three years.
Article continues below advertisement
Article continues below advertisement
In its 4Q 2013 results last month, Halliburton beat street estimates and posted a 19% increase in net income driven by growth in its international operations. Latin America remained challenging, North America revenue declined 1%, and operating income declined 6%, given seasonal slowdowns and disruptions due to weather and holidays. For more on the 4Q results and oilfield services industry's outlook, see Important highlights from Halliburton's 4Q13 earnings report.
According to Barclay's Global 2014 E&P Spending Outlook, global E&P spending is poised to reach a new record of $723 billion in 2014, up 6.1% from $682 billion in 2013. The year 2014 should mark an acceleration of growth in North America to over 7% (led by the U.S.) coupled with continued solid growth (+6%) in international markets, particularly in the Middle East, Latin America, and Russia. Halliburton and its peers Schlumberger (SLB), Baker Hughes (BHI), and Weatherford (WFT) are expected to benefit from this growth.