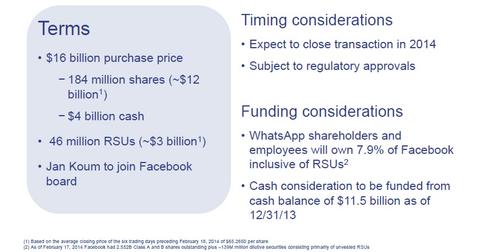 Must-know: Facebook acquires WhatsApp for $19 billion
By Puneet Sikka

Updated
Facebook buys WhatsApp
On February 19, Facebook (FB) announced its purchase of the mobile messaging service WhatsApp for $19 billion in cash and stock. The deal is a big bet for Facebook, which has—until recently—not been able to convince investors of its strategy for mobile.
During its conference call to announce the acquisition, Facebook said it would keep WhatsApp as a separate service—just as it did with Instagram, which it bought for about $1 billion in 2012. The announcement of this acquisition came less than a week after the announcement of Viber's acquisition by Japanese company Rakuten for $900 million. Viber is an app that allows users to make free calls over the Internet. In late 2013, Facebook also attempted to acquire the photo sharing app Snapchat for $3 billion. Though Snapchat rejected the offer, the proposal highlighted Facebook's determination to acquire messaging applications.
Article continues below advertisement
Facebook will acquire WhatsApp for approximately $16 billion, consisting of $4 billion in cash plus 184 million shares or approximately $12 billion worth of WhatsApp's stock. Also, Facebook will grant 46 million RSUs worth approximately $3 billion to WhatsApp employees that will vest over four years subsequent to closing. The stock and RSUs to be issued will represent 7.9% of Facebook's shares based on current shares and RSUs outstanding. The transaction is subject to regulatory approvals, and Facebook expects the deal to close later in 2014. Note that if the deal doesn't go through, Facebook will still be required to pay $2 billion to WhatsApp under a termination clause.
To learn more about Facebook, see the Market Realist series Investing in Facebook: A comprehensive primer and analysis.
Read on to the next part of this series to learn about WhatsApp's growth trajectory.