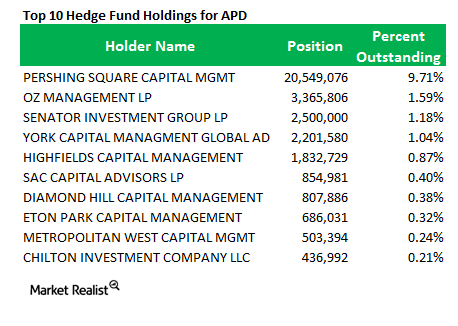 Why Pershing Square increased its stake in Air Products and Chemicals
Ackman's Pershing Square increased its position in Air Products and Chemicals, Inc. (APD) from 21.31% in 3Q 2013 to 27.91% in 4Q 2013.
Air Products and Chemicals supplies industrial gases, performance materials, equipment, and technology. It's the world's largest supplier of hydrogen and helium and it has built global supply positions in growth markets like semiconductor materials, refinery hydrogen, coal gasification, natural gas liquefaction, and advanced coatings and adhesives.
Article continues below advertisement
Pershing Square initiated a 9.8% position in APD in 2Q 2013. A 13D filing in July 2013 stated that the stock was undervalued, an attractive investment, and that Pershing intends to engage in discussions with management, the board of directors, other stockholders, and other people who may relate to governance and the board composition, management, operations, business, assets, capitalization, financial condition, strategic plans, and the company's future. APD had adopted a poison pill plan a week before Pershing Square disclosed its stake. In September last year, Air Products announced the retirement of CEO John McGlade in 2014 and the addition of three new independent directors to its board. The company is yet to hire a replacement for McGlade.
Ackman's 2Q 2013 investor letter highlighted the investment and said, "APD is a large capitalization, investment grade, U.S. corporation that principally operates in one business segment and serves a diversified global customer base operating in a diversified set of end markets. The business is simple, predictable, and free-cash-flow-generative, and enjoys high barriers to entry, high customer switching costs, and pricing power. The company benefits from long-term secular demand growth for its products and services. In addition to growth from existing in-place assets, the company has a large opportunity to deploy growth capital in its core business at attractive rates of return. We believe the downside risk of this investment is modest in light of our cost basis, the stability of the business, and the company"s strong balance sheet. In other words, we believe that we are paying a fair price for the company as-operated, and a bargain price if we can successfully effectuate change."
Article continues below advertisement
According to news reports last year, Ackman aimed for improving operational efficiency at APD and believed the company lagged its peers such as Praxair (PX), and was undervalued. Ackman recently told Bloomberg that APD "is a 200-plus-dollar stock over the next three years with new management." Although Pershing Square does not have a board seat, Ackman said the firm has "influence" over the hiring of the new CEO.
For 1Q 2014, APD reported net income was $287 million, up 4%, and diluted EPS was $1.34, an increase of 3%, compared with results for 1Q 2013. CEO McGlade said in the earnings release, "In the first quarter, our cost reduction efforts contributed to higher operating income, further strong signings improved asset loadings, and we continued to execute on our strong backlog, bringing on major new plants in China." The company saw strong performance in its Electronics and Performance Materials, and Equipment and Energy divisions. Tonnage Gases sales decreased 10% to $808 million versus last year with continued strong demand in the U.S. Gulf Coast was more than offset by plant outages and lower Latin America volumes. Air Products expects second quarter EPS from continuing operations to be between $1.32 and $1.37 per share.
APD's other peers include Airgas (ARG) and Air Liquide (AIQUY).