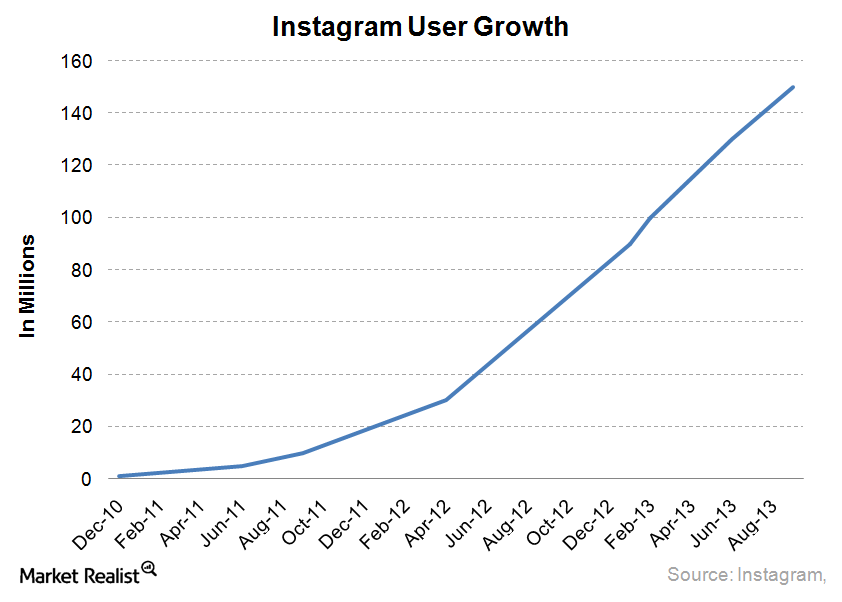 Why Facebook's Instagram acquisition is a future growth driver
Facebook's mobile use
Mobile use has been critical to Facebook's user growth and engagement over the long term, and accordingly, it's prioritizing mobile product development. For this reason, Facebook acquired Instagram, Inc. in April 2012 for $1 billion, which is its largest acquisition to date. Instagram has built a mobile phone–based photo sharing service that lets people increase their levels of mobile engagement and sharing. The deal saw some criticism for the high price paid for a company that had no revenue or business model in place.
Article continues below advertisement
In Facebook's efforts to monetize the acquisition, Instagram announced in October last year to its over 150 million users that it will be introducing advertisements in feeds. On December 12, Instagram introduced Instagram Direct—a direct messaging system that can be used by iOS and Android users to privately send text, photo, and video messages to each other. The service had a total of 16 billion photos with 1 billion likes per day in June last year, making it the biggest photo sharing service in the world.
Prior to the Instagram deal, Facebook spent only $68 million on acquisitions, which were mostly "acquihires" intended to add to Facebook's developer talent and integrate entrepreneurs who could grow at the company. The acquisitions in 2012 included mobile gifting and commerce service Karma, Glancee (an ambient mobile location app that alerts users when people with similar interests are nearby), and facial recognition technology company Face.com. In 2013, Facebook's acquisitions included stealth software startup Osmeta, Parse, a cloud-based platform providing tools for mobile app developers, Mobile Technologies, the team behind mobile (iOS and Android) voice translation app Jibbigo, and Onavo, a mobile application data startup based in Israel. Facebook bought Atlas Advertiser Suite from Microsoft in April 2013. Atlas is a platform used for campaign management and measurement for marketers and agencies. It also acquired sports second-screen developer SportStream to capture real-time discussion around sports. Facebook acquired Little Eye Labs, an India-based software product start-up, for an undisclosed amount. Incorporated in May 2012, Little Eye Labs builds performance analysis and monitoring tools that identify and rectify performance problems for Android app developers. Facebook also recently acquired link-sharing service Branch and its sister service, Potluck.
News reports in November last year stated that messaging service Snapchat turned down a $3 billion offer from Facebook. With Instagram Direct, Facebook is now directly competing with Snapchat.
Apart from Instagram, the services of most of these acquired companies were typically shut, as Facebook prefers to develop its own products. Post-acquisition, Instagram was able to remain an independent platform and retain its applications and user base.
To learn more about how Facebook appears to be losing user base to companies like Twitter (TWTR), WhatsApp, and Snapchat, see Why Twitter might not perform as well as investors think.