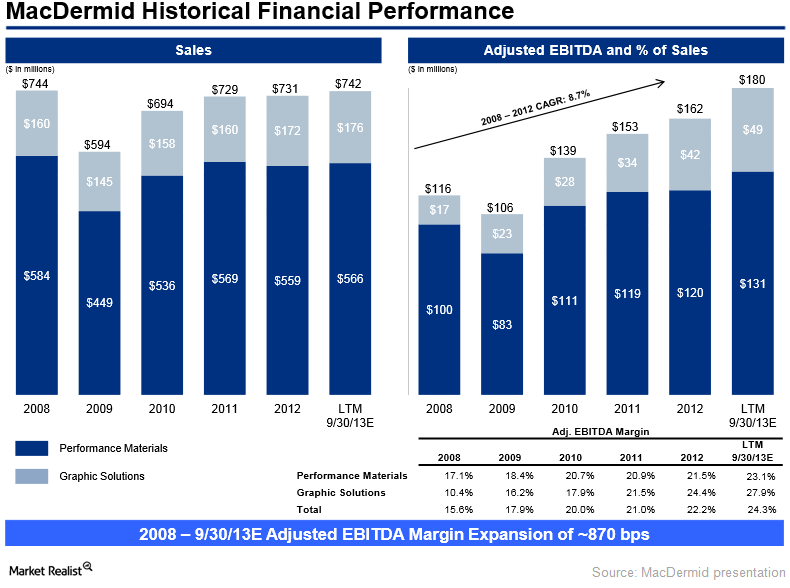 Why Pershing Square bought stake in Platform Specialty Products
By Samantha Nielson

Nov. 20 2020, Updated 4:32 p.m. ET
Pershing Square buys stake in Platform Specialty Products
In a 13G filed last week, Bill Ackman's Pershing Square disclosed a position in Platform Specialty Products Corporation (PAH). The holding comprises 29,166,665 common shares and 12,500,001 warrants to purchase an additional 4,166,667 common shares of Platform Specialty Products. This amounts to a 30.9% ownership of Platform Specialty Products.
For information on Ackman's 3Q 2013 positions, please see here.
Article continues below advertisement
Platform Specialty Products started trading on NYSE on January 23. The company's website states that it's a global producer of high-technology specialty chemical products and provider of technical services. Platform Specialty Products was earlier a Virgin Islands–based shell company known as Platform Acquisition Holdings Ltd, and it was listed on the London Stock Exchange. The special-purpose acquisition corporation (or SPAC) was formed with the aim of acquiring companies with an enterprise value of between $750 million and $2.5 billion.
On October 10, 2013, Platform Acquisition Holdings announced its intention to acquire MacDermid Incorporated, a Miami–based specialty chemicals maker whose products are used in the electronics, metal and plastic plating, graphic arts, and offshore oil production and drilling industries. After the completion of the $1.8 billion acquisition, Platform Acquisition Holdings renamed itself Platform Specialty Products, and it's currently in the process of delisting from the London Stock Exchange.
MacDermid's CEO, Daniel Leever, will run Platform Specialty Products. He said in a press release:
"Platform's key mission is to create value for our shareholders by building a portfolio of market-leading specialty chemicals businesses. We believe that our listing on the New York Stock Exchange furthers this objective by elevating our profile on a global scale, enhancing liquidity and visibility, and increasing the accessibility of our shares."
MacDermid reported $742 million in sales and $180 million in adjusted EBITDA for the year ended September 30, 2013. Some other specialty chemicals stocks include Eastman Chemical (EMN), FMC (FMC), Albermarle (ALB), and Rockwood Holdings (ROC).
Apart from Ackman, Martin Franklin of Jarden (JAH) and Nicolas Berggruen of Berggruen Holdings own significant stakes in Platform Specialty Products. A report on TheStreet.com said the structure of Platform Specialty Products listing is similar to the Burger King (BKW) deal in April 2012, wherein Ackman, Franklin, and Berggruen's London-listed SPAC Justice Holdings acquired a large stake in the hamburger chain from private equity fund 3G Capital for $1.4 billion. Justice Holdings was later dissolved, and Pershing Square and Berggruen became investors in Burger King, which was relisted on the NYSE.