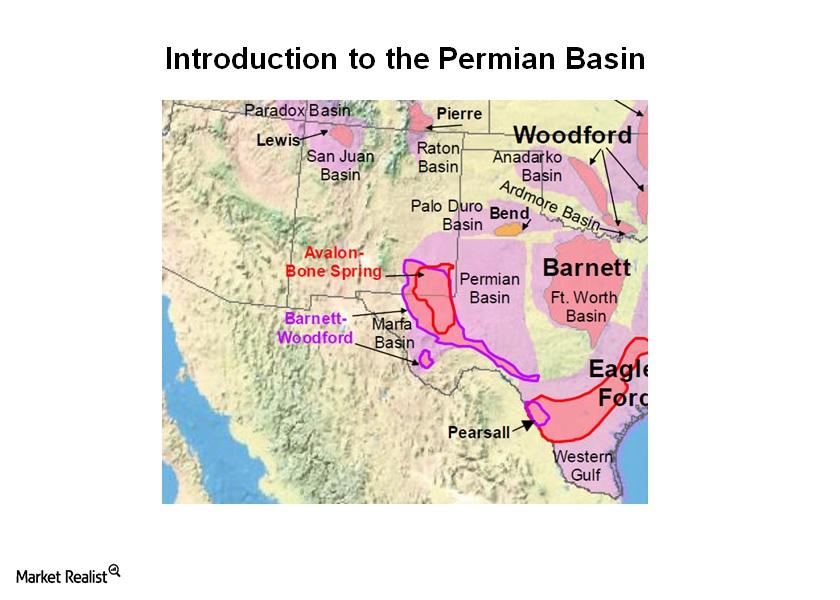 Introduction to the Permian Basin — Part 2: Geography of the Permian Basin
Where is the Permian Basin?
The Permian Basin spreads across a wide swath of western Texas and southern New Mexico. The name "Permian Basin" generally refers to a combination of the Delaware Basin and Midland Basin.
Drilling in the Permian Basin
Within these basins are several layers of rock, and many oil producers are drilling from more than one layer in the Permian Basin, which could increase profitability. This is because producers only need to prepare one site above ground for drilling, and there are multiple layers below from which they can extract hydrocarbons, allowing producers to access more hydrocarbons using less time and fewer resources.
The diagram below, sourced from a Concho Resources (CXO) company presentation, shows the locations and layers of the Permian Basin. Concho Resources is one of the dominant players in the region.
Producers drill from multiple layers
As displayed in the chart below, Concho Resources has focused its drilling inventory more and more on multi-zone locations. This means that for each drilling site, the producer plans to extract hydrocarbons from many geological layers.
Article continues below advertisement
This multi-zone approach isn't unique to Concho Resources. Other major Permian Basin players, such as Pioneer Natural Resources (PXD), use the same strategy. The following diagram represents Pioneer Natural Resources' drilling plan for its northern Permian assets in Midland, Martin, Glasscock, Upton, and Reagan counties in western Texas.
Laredo Petroleum Holdings (LPI) also drills multiple layers in its assets in Glasscock and Reagan counties.
Most companies in the Permian Basin target the Spraberry, Wolfcamp, and Cline horizons, as so far, those have been the most prolific. However, it's possible that other zones could produce hydrocarbons in the future.
More about the Permian Basin
Learn more about the Permian Basin and its economic significance in Part 3: Major players, available tomorrow.