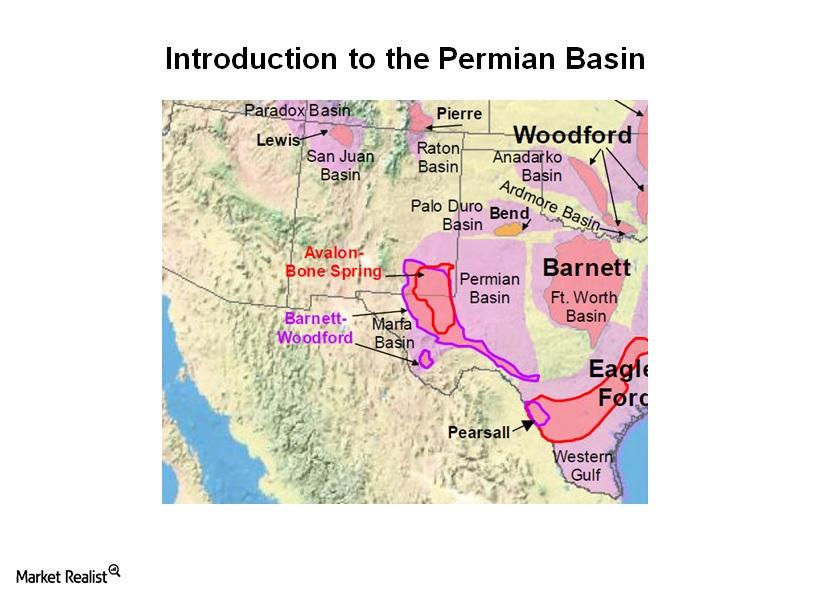 Introduction to the Permian Basin — Part 1: Why is the Permian Basin important?
By Ingrid Pan

Oct. 29 2019, Updated 2:03 p.m. ET
Market Realist will regularly publish primer articles on different oil and gas–producing basins. In this edition, we discuss the Permian Basin, one of the primary engines of oil production growth in the United States. Market Realist will explain what the Permian Basin is, where it 's located, which companies operate there, and issues associated with the region as well as other relevant topics.
The Permian Basin's growth increases U.S. oil production
Article continues below advertisement
In recent years, U.S. oil production has been increasing rapidly, in part due to growth in the Permian Basin, located in western Texas and eastern New Mexico. The U.S. Energy Information Administration (EIA) expects U.S. crude production to rise from approximately 6.5 million barrels per day in 2012 to approximately 7.3 million barrels per day in 2013 and approximately 8.1 million barrels per day in 2014, and the majority of the growth will come from the Williston Basin in western North Dakota and eastern Montana (primarily the Bakken formation), the Western Gulf Basin in south Texas (primarily the Eagle Ford Formation), and the Permian Basin (primarily the Spraberry and Wolfcamp formations).
Production has grown in the Permian Basin, as oil and gas producers have taken advantage of new technologies in order to drill previously uneconomic locations. This development has mostly used horizontal drilling (drilling sideways along the length of a hydrocarbon-rich strata) and hydraulic fracturing (using high-pressure liquids to break apart rock and release hydrocarbons).
More production creates opportunities across energy sector
Increased production in the basin has been positive for various parties, including upstream, midstream, downstream, and services. Many oil and gas producers (upstream companies) with assets in the Permian Basin have increased their revenues by successfully drilling in the area. Additionally, with increased production has come a need for increased midstream infrastructure that transports hydrocarbons away from production sites to places like oil refineries and natural gas processing plants. The Permian Basin requires increased services, such as drilling, fracking (short for "hydraulic fracturing"), well maintenance, water disposal, and other ancillary services to accompany its increased production. This demand benefits oilfield service companies in the region. Refineries in the area have also seen increases in profits because the excess of regional crude has led to increased crack spreads (the difference in price between refined petroleum products and crude oil), as the growing domestic oil supply has pushed crude prices down relative to refineries' finished products.
More about the Permian Basin
You can learn more about the Permian Basin and its economic impact in Part 2: Geography of the Permian Basin.