Woman Asks Husband to Turn Down His Dream Job, Internet Agrees With Her
On Reddit's AITA thread, a woman came forward and revealed how she asked her husband to turn down his dream job, or get a divorce. Was she in the wrong?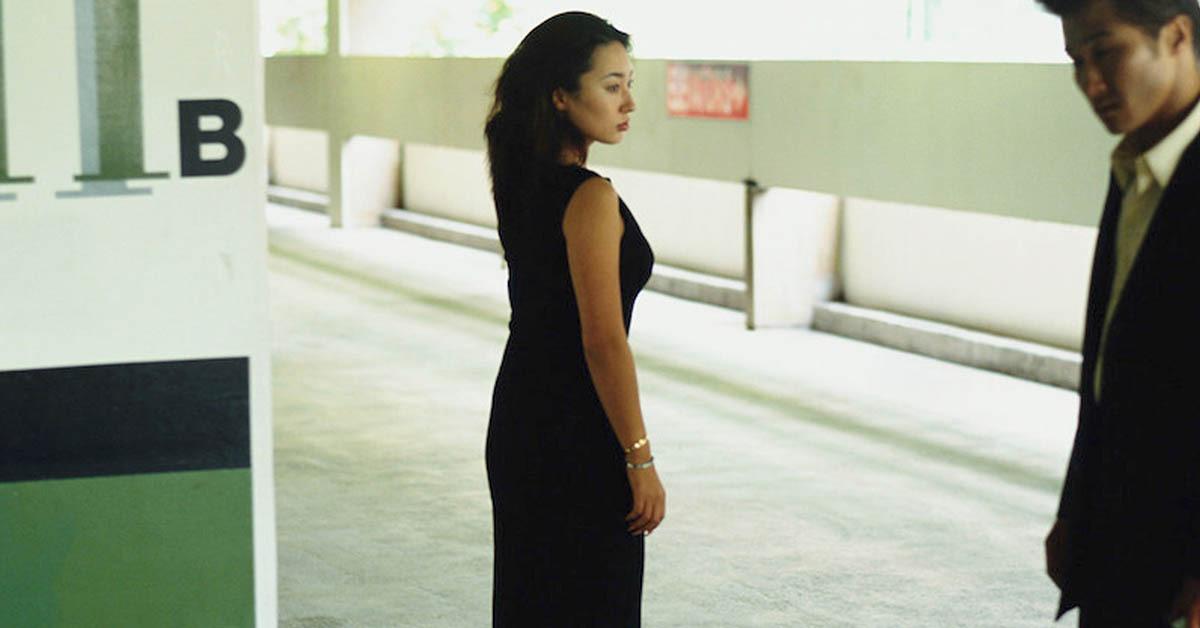 Finding the perfect job isn't easy — especially when you are in a relationship and have to consider your partner's career.
In a post on Reddit, one woman came forward to recount how she had to give her husband an ultimatum when it came to choosing between his dream job and their marriage.
Article continues below advertisement
Article continues below advertisement
For some context, the woman was the breadwinner of the family, making $200,000 a year, with the potential to get into the million-dollar salary range.
Meanwhile, her husband quit his job before the COVID-19 pandemic hit, and she supported him while he searched for a better job. After some time, her husband landed an interview with "Organization X" — his dream employer.
Turns out Organization X is a direct competitor to the wife's company.

"This is his dream job, in almost every imaginable way (I can't be detailed). However, it's paying about $65k a year, which would be fine except this job directly puts my job stability at risk," the woman wrote on Reddit. "My field is extremely secretive, and if clients discovered my spouse was working for a competitor, I would be permanently tainted. I wouldn't be able to get a job in the industry forever."
Article continues below advertisement
Due to these circumstances, the woman asked her husband to turn down the interview and keep looking for another job.
"He was extremely angry, and said I was 'selfish and only cared about money.' I told him that if he wanted to go back to school for an advanced degree or just be unemployed for a while, I would support him, but taking this job isn't possible," she continued.

Article continues below advertisement
Article continues below advertisement
However, her husband went behind her back and took the interview anyway. He got a job offer and is accusing his wife of not being supportive, despite the fact that she now has to inform her company that her husband was in communication with an adversary.
"I told him he could decline the offer, w/me watching him physically decline it, or he could accept the offer and move out immediately. I would pay for him to stay two weeks at a hotel, and we would begin divorce proceedings," she wrote. "My company is willing to take care of all of my legal fees."
Despite the ultimatum, she is feeling conflicted.
Article continues below advertisement

Article continues below advertisement
"I feel f--king awful. I still love him. I moved decisively, b/c this was the best way to cut my losses, but it still hurts. He called me heartless and cold. It's true that I was prioritizing my career over his, but it felt like the only option at the time," she ended the post.
Article continues below advertisement
Reddit was on the wife's side, calling the husband selfish and toxic.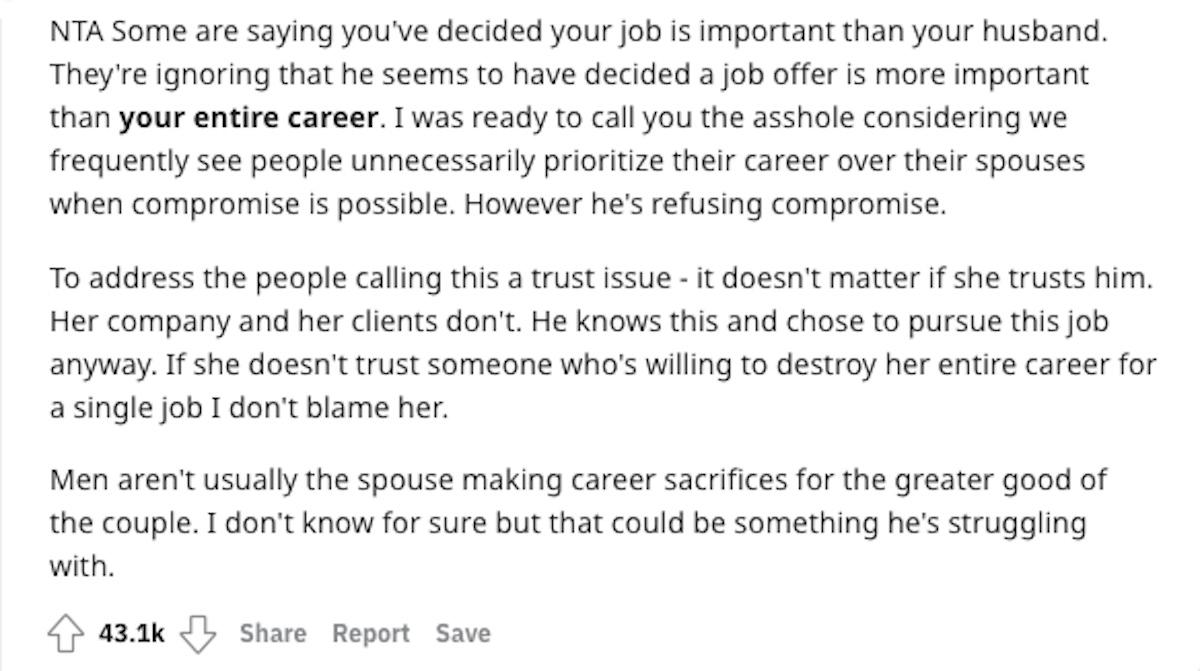 The woman was deemed NTA by readers of the post, who believe the husband shouldn't have even applied to the job in the first place, knowing his wife's career would be jeopardized.
"I think the fact that he's not considering the fact that his wife makes more than 3X what he will is stupid. It's like cutting off your entire face to spite your ears," one user commented. "Be happy that your wife is successful in her career and is willing to support the both of you."
Another agreed, adding, "You aren't choosing between your husband and your career. You are choosing to not be with a man who is willing to sabotage your future over a job offer. He has the time to continue looking for another job. He is choosing a job offer over you and your livelihood, not just for now, but into the future. As a nice topper, he is gaslighting you and making you believe his choices are your fault."
Do you agree? Was the woman right to ask her husband to turn down his dream job for her career?