Boss Fires Woman Returning From Maternity Leave, Claims He Did "Fair" Thing
A boss is saying he had to fire a woman returning from maternity leave because of "budget" — but the internet isn't buying it. Is he in the wrong?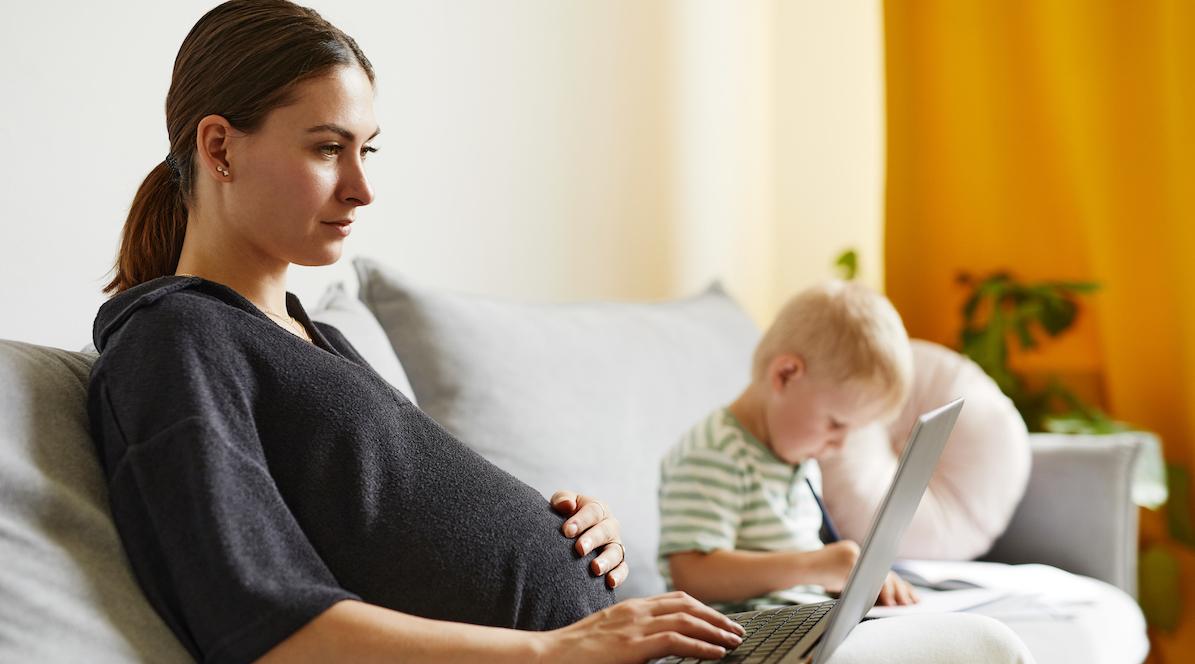 There's a stigma against women in the workplace, especially when it comes to maternity leave.
In fact, according to a study by London's South Bank University, half of women believe that taking maternity leave has harmed their careers.
Article continues below advertisement
Article continues below advertisement
Well, proving that women in the workplace do have something to worry about when it comes to job security after welcoming a child, there's a post from an anonymous employer who claims he fired a woman (named Jess in this story) returning from maternity leave because it was the fair thing to do.
The Reddit post, which starts with "I feel like the devil right now, so I'll accept whatever judgment you all have," detailed how the employer works with a team of six, and the company he works for allows for 10 months of maternity leave.
While on maternity leave, the woman's team hired a new employee to handle her workload.

The employer went on to explain that while Jess was on maternity leave, their team started on a new project and delegated her workload to new and existing employees.
"During this period, our team had to adapt to working without her expertise in certain matters. We adapted and eventually some of us developed the skills needed to do some of her workload," the boss wrote. "The situation we have now is me, and two others split half the work that Jess used to do, and we hired someone new to come into the team to handle the other part of Jess's workload and then some."
Article continues below advertisement
Now, this is where things get shady. The employer then proceeds to share that the new employee "came at significantly reduced cost" and was "paid a fraction of what Jess costs."
To make matters worse, when papers were submitted for Jess' return, the employer was informed he no longer had the budget for a seven-person team, and had to let someone go.
The boss chose to keep Jess' replacement, and called it the "fair" thing to do.

The employer shared his reasoning for keeping Jess' replacement instead of bringing her back onto the team, giving the following excuses:
The replacement was far cheaper, which freed up a lot more money than keeping Jess on.

He was up to date with the project and we would be able to move forward seamlessly, whereas with Jess we would have to take time catching her up to speed on half the project.

The clients already knew and liked working with him, whereas they didn't know Jess at all.
Article continues below advertisement
Article continues below advertisement
She has been out of the field for a prolonged period, whilst he has been here for the past 9 months, so she may, or may not, find it hard to adapt back to work life, whilst with him it isn't a question.
He performed his work better than she did hers and interacted better with the team.
"Obviously, the ideal situation which I wanted was to keep both and not put a new single mother with no other job lined up out in the cold, but I had to do right by the team and firm," he explained, adding that he offered to give Jess "a brilliant Letter of Recommendation."
As expected, Jess turned down the offer, prompting the boss to ask Reddit, "I know I sound cold and heartless but I had to be fair to both employees, not just Jess, right?
Article continues below advertisement
Not surprisingly, people didn't agree with the boss' decision to fire Jess.

It didn't take long for users of Reddit to flood the comment section and call the boss out for his decision — and warn him he will most likely be sued for wrongful termination.
"Every single reason you mentioned was only true because she had been gone on maternity leave which legally CANNOT be a reason to terminate someone. Yet it is the cause behind everyone reason you gave. Be prepared for a lawsuit," one person wrote before another added, "OP, I was terminated for this very reason and won a wrongful termination lawsuit based on discrimination. Prepare yourself."
Article continues below advertisement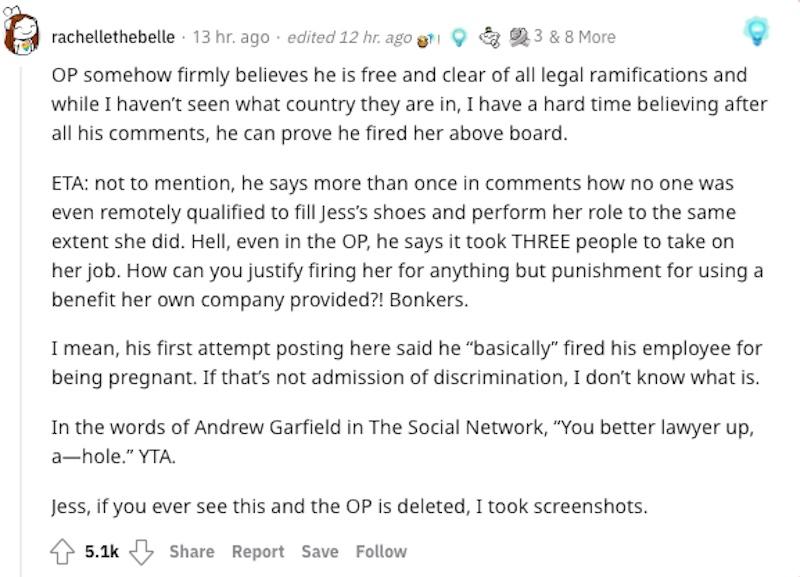 A third chimed in, "Not to mention they're clearly underpaying and taking advantage of the new guy and feel good about it??? OP is the biggest AH I've seen in a while."
What do you think? Did this boss make the right decision or is he about to regret firing a protected employee?