When U.S. shutdowns related to the COVID-19 pandemic first started, many department stores were drastically affected by the ever-shifting regulations. The difference for JCPenney is that they were already on the fritz before things went awry.
Article continues below advertisement
The company has since taken part in numerous financial proceedings, but the question of whether they'll survive after filing for bankruptcy seems to be its clearest yet—for now.
JCPenney went bankrupt in May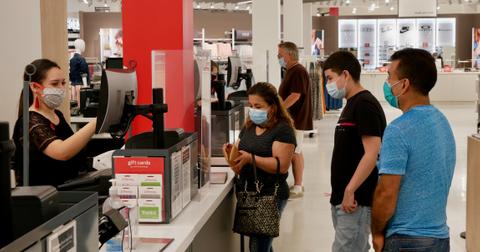 Article continues below advertisement
In the nine years leading up to the pandemic, JCPenney lost a total of $4.45 billion. The store has been around for 118 years since its 1902 inception in Wyoming.
JCPenney's new owners are keeping it from going out of business
The CEO of JCPenney was fired today. Seriously, JCPenney is still around?

— Lowell Benjamin (@LowellCBenjamin) December 31, 2020
Simon Property Group and Brookfield Property Partner purchased JCPenney this year to help the company rebrand. Simon and Brookfield are landlords for 160 of the brand's locations.
Article continues below advertisement
Prior to selling to new owners, the company's executives sold off some of the artwork from the JCPenney Art Collection, which was formerly housed in the Texas corporate office. Jill Soltau was hired as CEO two years prior, but her failure to pull the company out of the trenches has led her to the exit.
Now, JCPenney doesn't have headquarters, but they expect to open up a corporate location in Lewisville, Texas. After the sale, the company's new owners helped the brand acquire $1.75 billion, which they can use to prop up the business for a period of time.
Article continues below advertisement
Which JCPenney locations are closing?
Closures of JCPenney stores are still ongoing. On Dec. 11, they shut down another 15 locations to add to the more than 170 recent and upcoming closures across 38 states. Reportedly, the remaining JCPenney stores don't hold quite as much merchandise as they once did.
JCPenney is no longer a publicly traded company
JCPenney lost its place on the NYSE after its bankruptcy and moved to the OTC markets. Since its sale, JCPenney has relinquished its status as a publicly traded company. Now, the company will only report its financial information to the new owners.
Article continues below advertisement
Can the general public invest in JCPenney stock anymore?
General investors can no longer maintain JCPenney stock on their portfolio. It's for the better, considering the company's rather unstable condition. While they're in the clear for the time being, JCPenney undoubtedly has a way to go before reaching solvency.
With decisions left to be made, consumers will find out if JCPenney can be saved
Jill Soltau made $9,735,604 in total compensation ($1,400,000 as salary, $4,477,800 as bonus, $0 was received in stock options, $3,750,000 was awarded as stock).

I would have happily run JCPenney further into the ground for 1 fifth the cost of Jill Soltau.

— AtomicAJ74 (@AtomicAj74) December 30, 2020
In December, a company executive wrote, "With the 2020 holiday season in full swing, we are excited to operate under the new ownership of Brookfield and Simon outside of Chapter 11. [...] We appreciate the efforts of the Court and the support of our creditors in this process and putting us in a strong position to build on J.C. Penney's long track record."
The company plans to release more information about their next direction in the new year.