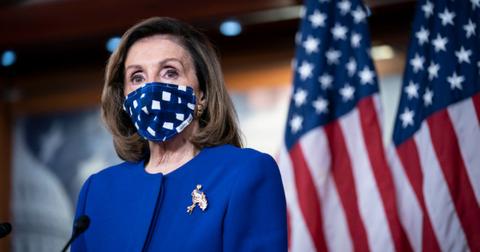 Here's Who Will Get a Second Stimulus Check—And How Much—If New Bill Passes
By Kathryn Underwood

Updated
On Monday, both Republican and Democratic senators introduced a new COVID-19 relief bill, to be put to a vote on Friday, Dec. 18. There are two segments to the proposal, one with a $748 billion price tag and the other for $160 billion. Legislative negotiations have gone on with no resolution for months.
Article continues below advertisement
The initial bill did not provide for a second stimulus check in either section of the relief funds. However, on Wednesday, some news outlets reported that a stimulus check was once again a possibility. The new check amount proposed is $600 or $700 per individual adult, effectively cutting in half the stimulus amount sent out with the CARES Act in the spring.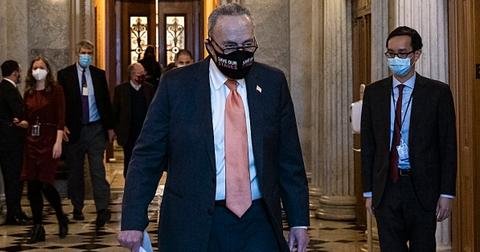 Article continues below advertisement
Will individuals get a second stimulus check?
A direct-payment stimulus check, similar to what Americans received in the spring of 2020, is now expected to be a part of the bill Congress votes on tomorrow. Some lawmakers interviewed said the funds for new stimulus payments would likely come at the expense of state and local aid, reported Politico.
If the new bill gets the approval of both Congress and the President, a $600 direct payment will be given to each eligible adult and qualifying dependent child. By comparison, the first stimulus payments were up to $1,200 per adult and $500 per child.
Article continues below advertisement
By this new payment system, a married couple would receive up to $1,200 from stimulus round two, and a family of four would receive up to $2,400. An individual qualifying adult of working age would receive $600.
Senator Bernie Sanders (I-VT) said the new proposal gives some economic relief to American families, though he insists that a higher amount would be better. CNBC quoted Sanders as saying $2,400 in aid to a family of four "will be pretty good news during this rather bleak Christmas period...But we have got to do more."
Article continues below advertisement
I am happy to say as we enter the holiday season, when so many families are struggling, at least there will be direct payments for every working class adult and their children, and an extension of unemployment benefits.

It is not enough, but it is progress. pic.twitter.com/schw1BopPk

— Bernie Sanders (@BernieSanders) December 17, 2020
Senator Elizabeth Warren of Massachusetts also said, "Americans need more help. My job is to keep pushing for more," Politico reported.
Article continues below advertisement
Qualifications may differ if this round of stimulus payments is approved, meaning some people who received the $1,200 check wouldn't qualify for the second check. Others may qualify for a lesser amount.
Stimulus checks may move more quickly for this second round, since the IRS already has the structure in place for tracking and delivering payments. Those who already have direct deposit with the IRS would again likely receive the second stimulus check faster than those requesting a paper check.
Article continues below advertisement
What other types of aid are included in the new Congressional proposal?
Ed Mills, a Washington policy analyst at Raymond James, stated that small businesses and those who have been unemployed for a long time are desperate for assistance. An additional $300 federal unemployment benefit per week may also be included in the new proposal.
The American people have struggled heroically through this pandemic. They've already waited too long for more relief.

The Senate isn't going anywhere until our bipartisan discussions reach an outcome for the American people.

— Leader McConnell (@senatemajldr) December 17, 2020
Article continues below advertisement
Politico also noted a potential $325 billion in small business relief measures, including $257 billion in Paycheck Protection Program funds. This could help employers hold on to employees rather than having to let them go and forcing them into unemployment.
Removing state and local aid from the package would save about $160 billion that could be diverted to individual stimulus checks.