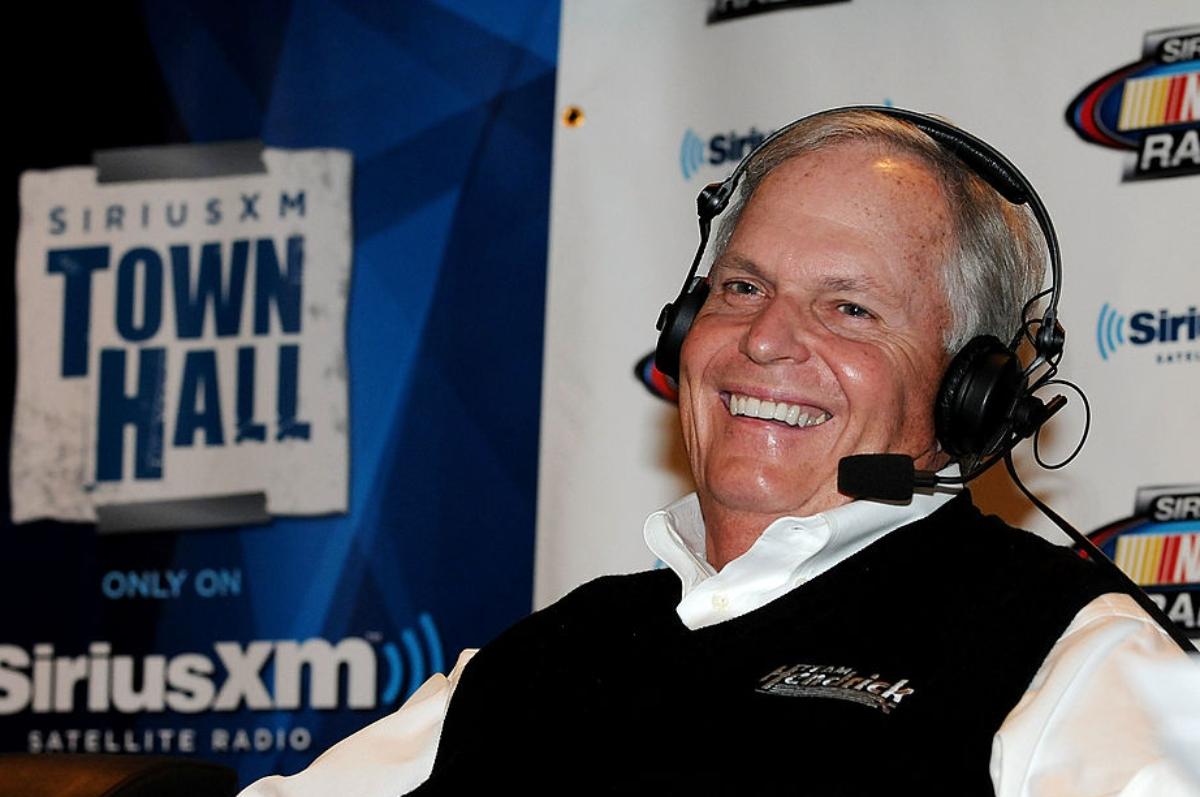 NASCAR Team Owner Rick Hendrick's Net Worth Is in the Billions
Rick Hendrick, who owns the NASCAR racing team Hendrick Motorsports, also owns a large automotive franchise, Hendrick Automotive Group. His net worth is substantial after decades in the automotive and racing industries. Well-known race car driver Jimmie Johnson is a part of the Hendrick Motorsports team.
Article continues below advertisement
Rick Hendrick
Businessperson, Automotive and Racing Executive
Rick Hendrick owns Hendrick Motorsports, a NASCAR racing team, and he's the chairman of Hendrick Automotive Group. Hendrick started his automotive business with a small used-car lot in his early 20s. Hendrick Automotive Group employs more than 10,000 people and has 140 franchise locations. Hendrick Motorsports supports four full-time Chevrolet teams.
Birthdate: July 12, 1949
Spouse: Linda Hendrick
How much is Rick Hendrick's net worth in 2022?
Hendrick has about a $1 billion net worth in 2022, according to CelebrityNetWorth. Superyachtfan notes that his companies draw in about $9 billion in annual sales, which could indicate his net worth is actually much higher than $1 billion.
Article continues below advertisement
Hendrick purchased a 12,000 square foot home in Charlotte, N.C., in 2000 for $3.65 million. Hendrick also reportedly owns a $35 million yacht as well as a Gulfstream G-V private jet worth $15 million.
In 1997, Hendrick and his wife, Linda, founded the Hendrick Marrow Program to raise funds and awareness for marrow transplants. In 2016, the couple formed the Hendrick Family Foundation, which supports various charities and now includes the Marrow Program.
Article continues below advertisement
Hendrick Motorsports has made many racing records.
So far, Hendrick Motorsports has earned a NASCAR record of 17 national series owners' championships and 18 overall. Kyle Larson, Chase Elliott, William Byron, and Alex Bowman are on the stock-car driver roster.
Article continues below advertisement
Hendrick was inducted into the NASCAR Hall of Fame in 2017, the International Motorsports Hall of Fame in 2013, and the Motorsports Hall of Fame of America in 2020.
Hendrick Motorsports is currently the NASCAR team with the greatest number of wins over the organization's lifetime. AP News referred to Hendrick Motorsports as the "stock car version of the Lakers or the Celtics, perhaps the New York Yankees of motorsports."
Article continues below advertisement
As of November 2021, HMS had 280 Cup wins, with Larson winning his 14th title following a yearlong suspension for his use of a racial slur.
Rick Hendrick is married and has children.
Hendrick is married to his wife Linda, and they had two children, Lynn and Ricky. Ricky, who became a race car driver himself, was killed in a 2004 airplane crash at the age of 24. Hendrick also lost two nieces and a brother in the crash.
Article continues below advertisement
Larson's championship win in November 2021 used the team's flagship No. 5 Chevrolet, as a tribute to Hendrick's late son Ricky. The car was painted to represent Ricky. AP News reported Hendrick's reflection on the meaning of the car to him and his wife. He said, "I love that color. I love that car. So it's very, very special to be able to win that and celebrate his colors, his number and his life."
Was Rick Hendrick involved in mail fraud?
Hendrick pleaded guilty to mail fraud involving a Honda executive in 1997. He received home confinement for one year, a $250,000 fine, and three years of probation. President Clinton pardoned him in 2000.