QAnon Shaman Jake Angeli Receives 41-Month Sentence for Jan. 6 Riot
Several hundred people were arrested for their participation in the Capitol riots on January 6, 2021. Jake Angeli was considered a riot leader. Where is he now?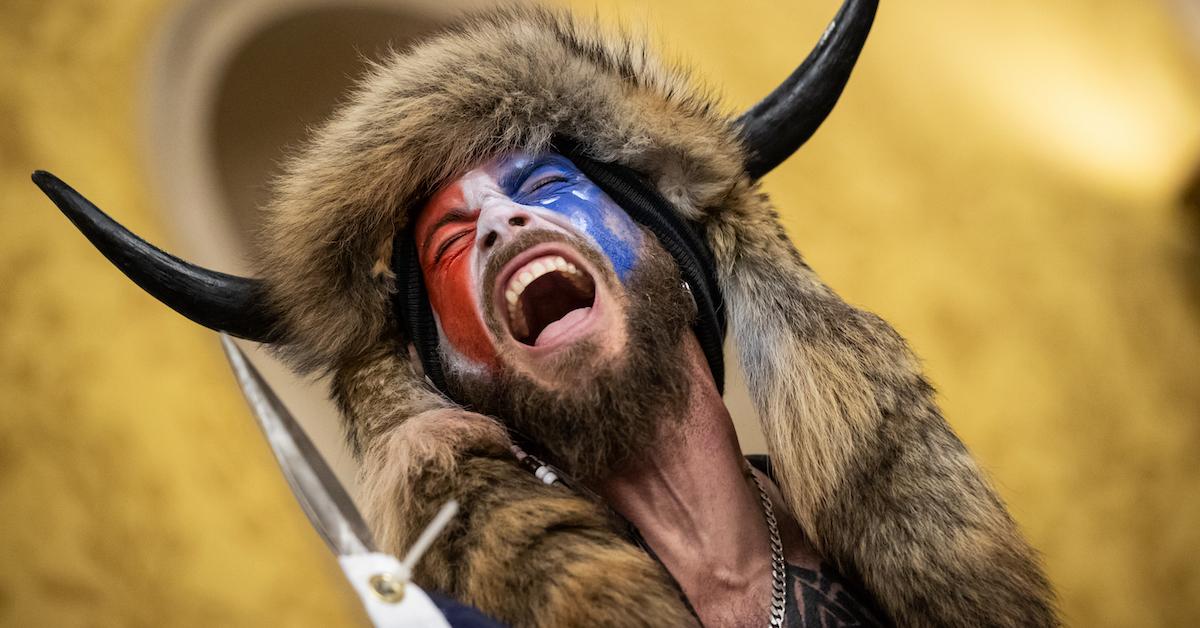 The U.S. Department of Justice has been on a mission to "set an example" out of QAnon Shaman Jacob Chansley, also known as Jake Angeli. He was among the most notable instigators during the Capitol insurrection on January 6, 2021.
Article continues below advertisement
Article continues below advertisement
According to reports, prosecutors made it glaringly clear that they intended to use Angeli's sentencing as an example to deter future insurrections against the government. Angeli was one of the first people arrested after the insurrection largely due to his prior instigating online mid-November before the attack.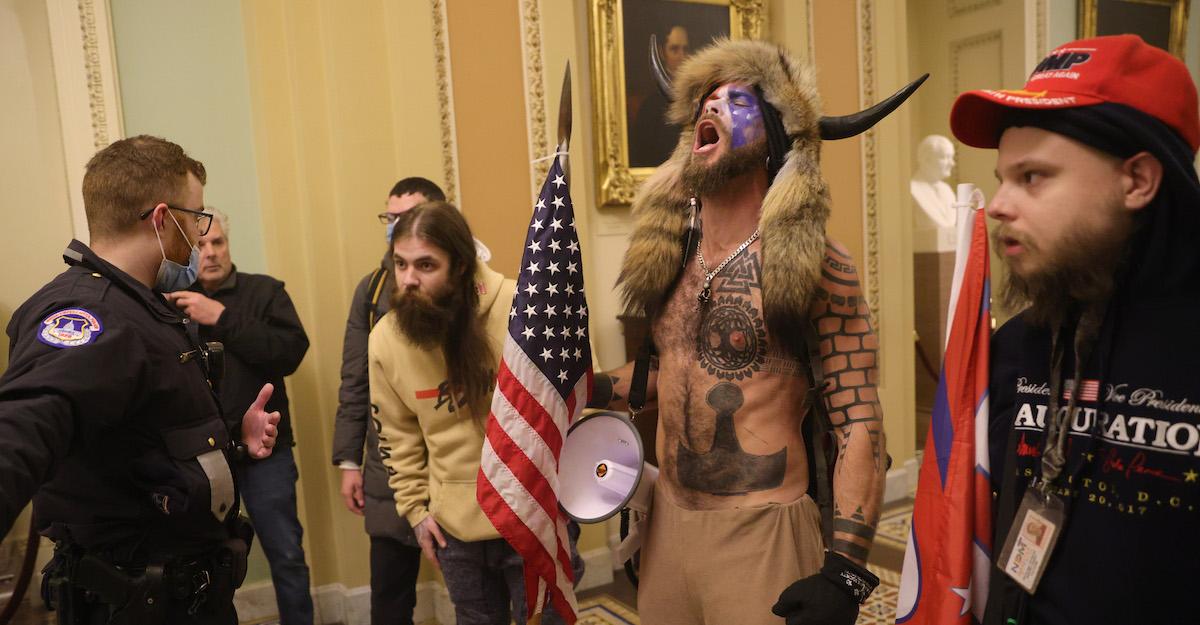 Article continues below advertisement
What did Jake Angeli do during the Jan 6. insurrection?
Angeli was quoted as saying, "We shall have no real hope to survive the enemies arrayed against us until we hang the traitors lurking among us" in a Facebook post prior to the insurrection. Along with his statements, he was often seen in an easily recognizable outfit of a furry hat with two horns and paint on his face and bare chest. Angeli was seen at the insurrection in this attire shouting into a bullhorn and goading the crowds.
Angeli was also armed with an American flag that was attached to a spear, which prosecutors classified as a weapon. While Angeli wasn't accused of property damage or violence, he took the U.S. Senate dais. He also left a note for former Vice President Mike Pence that read, "It's only a matter of time. Justice is coming!" which he drafted while he was in Washington, D.C. where Pence was "close by." Angeli has been in jail for almost 11 months while the courts deliberated on his fate.
Article continues below advertisement
Article continues below advertisement
The Justice Department sought out a hard sentencing.
The Justice Department sought to obtain a sentence of 51 months in prison with 3 years of supervised release following. Prosecutors drafted their sentencing request and said, "The government cannot overstate the seriousness of the defendant's conduct as one of the most prominent figures of the historic riot. The severity of his actions, and respect for the laws of this country, must be impressed upon him."
Article continues below advertisement
Angeli's lawyer, Albert Watkins, responded to prosecution claims citing Angeli's experience with abuse and neglect and previous Navy diagnosis of having a personality disorder. Despite the personality disorder, Angeli was still deemed able to serve. Watkins noted that Angeli's mental health has declined during his 11-month hold in jail. He added that Angeli believed he was earnestly responding to former President Trump's request for his supports to appear in Washington, D.C. on Jan. 6.
Article continues below advertisement
As a result, Watkins petitioned Trump to pardon his client. During Angeli's 11-month stay in prison during the trial, he was criticized by the presiding judge for doing a 60 Minutes interview without permission. Angeli doubled down on his position in the riots when he addressed the courts. Angeli said that his time in jail allowed him to reflect. He alluded to religious figures and leaders like Jesus Christ and Mahatma Gandhi to highlight how his thinking has evolved in jail.
Article continues below advertisement
What sentence did Jake Angeli receive?
Angeli pleaded guilty to obstruction of Congress's 2020 vote. He was ultimately sentenced to 41 months in prison since he had already served 11 months from the time of his arrest. He will serve approximately 2.5 more years in a minimum-security prison unit. Angeli was also ordered to pay a restitution fee of $2,000.