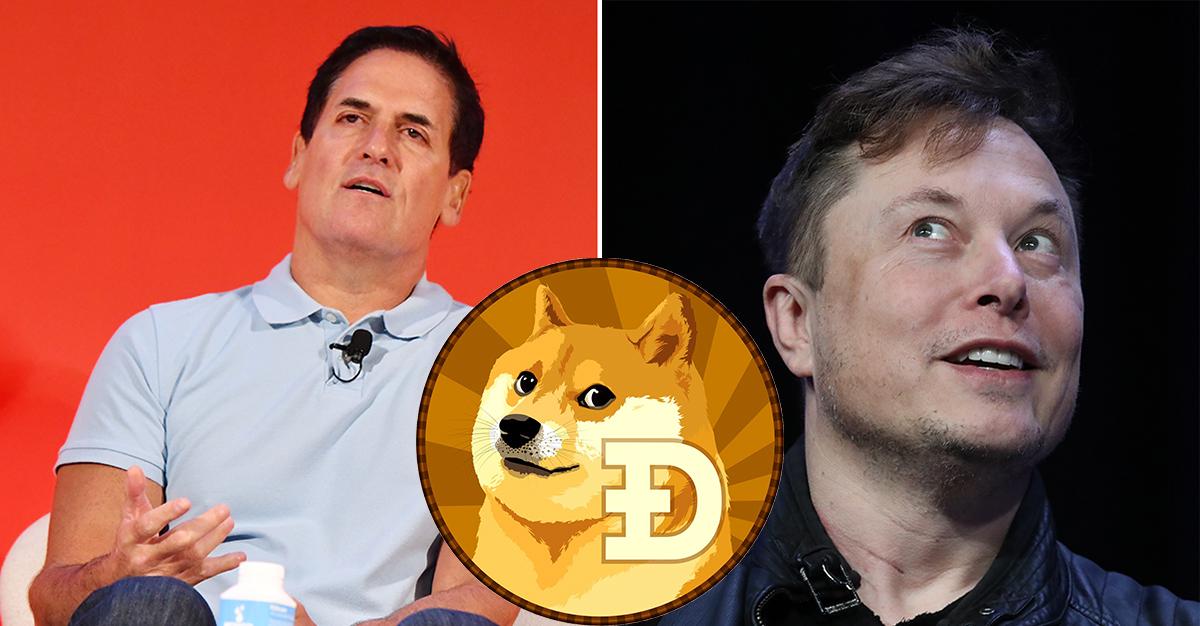 Dogecoin Rallies After Tweets From Mark Cuban and Elon Musk
While GameStop's recent rally seems to be dead in the water, popular cryptocurrency Dogecoin looks set for a second attempt at the moon. On Feb. 4, DOGE enjoyed a renewed rally after falling from its recent all-time high. The rally appears to have been triggered by tweets from Tesla CEO Elon Musk, despite warnings from billionaire entrepreneur Mark Cuban.
Article continues below advertisement
What is Dogecoin?
Dogecoin originally started as a joke from creators Billy Markus and Jackson Palmer. When it was created in 2013, the digital currency featuring the face of a Shiba Inu dog from the "Doge" meme was intended to satirize the hundreds of different altcoins emerging amid the growing popularity of Bitcoin.
However, Dogecoin's large supply and low price meant that it quickly became the perfect tool for tipping online content creators. A block interval of just one minute makes the coin easier to mine. Unlike Bitcoin, there isn't a cap on the supply of Dogecoin, which means that it can inflate infinitely.
Article continues below advertisement
Why is Dogecoin going up? Elon Musk helped the coin rally to all-time highs.
Dogecoin has seen its value explode in recent weeks. Since the start of the year, the cryptocurrency has seen a return of 786 percent. On Jan. 29, DOGE saw an all-time high of $0.078175 per coin, although the rally quickly came to an end. The huge price increase was due to Reddit forum r/WallStreetBets, where users were encouraged to buy the meme coin along with the likes of GameStop and AMC.
DOGE was helped to this new high by a tweet from Musk, which was seen as an endorsement of the coin by many.
Article continues below advertisement
In the first few days of February, the Dogecoin rally started to decline, much like the rallies seen for GameStop and AMC. However, the coin witnessed yet another rally on Feb. 4 when Musk made more tweets about the cryptocurrency.
A photo showing one of SpaceX's rockets silhouetted by the moon simply read: "Doge." One of the rallying cries behind DOGE's initial rally has been that the cryptocurrency could "make it to the moon" by reaching $1 in value.
Article continues below advertisement
It didn't end there. In two other tweets, Musk proclaimed that "Dogecoin is the people's crypto." While in another, the Tesla CEO wrote, "No highs, no lows, only Doge."
Article continues below advertisement
And then there was this modified image from The Lion King.
Article continues below advertisement
In an interview on Clubhouse earlier this month, Musk said that he doesn't have any strong opinions on cryptocurrency outside of bitcoin. "Occasionally I make jokes about dogecoin, but they are really just meant to be jokes," he said.
Musk pointed out that Dogecoin was "made as a joke to make fun of cryptocurrencies" but noted, "fate loves irony." He also said, "Arguably the most entertaining outcome and the most ironic outcome would be dogecoin becomes the currency of earth in the future."
Article continues below advertisement
Mark Cuban has also tweeted about Dogecoin, though he wasn't nearly as positive
Cuban, a billionaire entrepreneur and host of Shark Tank, also tweeted about Dogecoin on Feb. 4. Asked by a follower whether the coin was a good investment, Cuban compared the coin to the lottery. He said, "If I had to choose between buying a lottery ticket and Dogecoin ... I would buy Dogecoin. But please don't ask me to choose between it and anything else."
Article continues below advertisement
In 2019, Cuban made the comment that he would "rather have bananas than bitcoin." He told investors at the time that the currency had "no intrinsic value." Despite Bitcoin's 800 percent rally since that comment, Cuban still seems a little cold on cryptocurrency.
"Bitcoin is moved by institutional investors globally," Cuban recently told Forbes. "[Bitcoin] is just like any stock. "It's price is driven by supply and demand."
However, Cuban admitted that DeFi—the idea that cryptocurrency could be used to recreate financial instruments like loans and insurance—could change the game.
"I do think that DeFi could change [what drives bitcoin] in a variety of ways, but it's too early for it to be a significant impact," Cuban said.