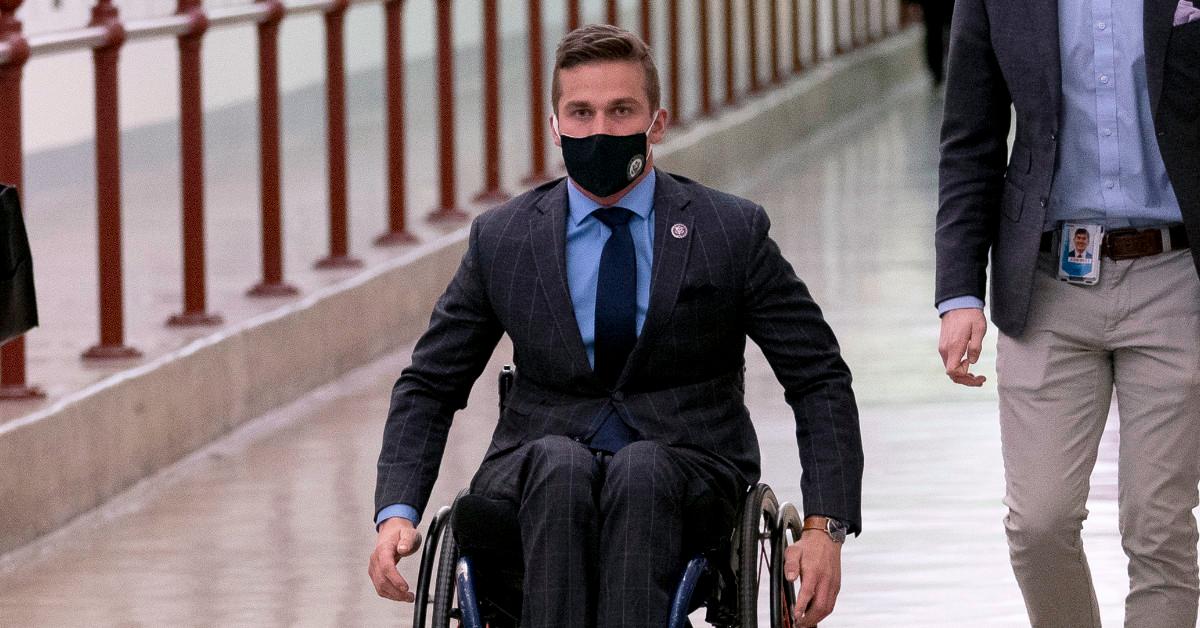 How Real Were Rep. Madison Cawthorn's Paralympics Ambitions and Naval Academy Plans?
By Dan Clarendon

Jan. 26 2021, Published 1:40 p.m. ET
Republican politician Madison Cawthorn made waves during the 2020 election, especially when the 25-year-old became the youngest person elected to Congress since 1965. But lately, some of Cawthorn's claims to fame—including his stated Paralympic ambitions—have been questioned if not debunked.
Article continues below advertisement
What was Madison Cawthorn's accident? Why does he use a wheelchair?
A 2014 Times-News article details the car accident that left Cawthorn partially paralyzed earlier that year. As the newspaper recounts, Cawthorn and close friend Brad Ledford were headed home from a spring break vacation in Florida when Ledford fell asleep at the wheel. Their SUV veered off the road and struck a concrete road barrier. Ledford and bystanders pulled Cawthorn from the flaming wreck, and Cawthorn was flown by helicopter to a hospital.
Article continues below advertisement
Cawthorn had a broken vertebra, a broken pelvis, a crushed right ankle, a severely burned left ankle, and collapsed lungs, and he also lost a kidney in the accident. "It is a miracle," his mother told the newspaper at the time. "They couldn't even believe he was alive."
Article continues below advertisement
According to the the nonprofit news team AVL Watchdog, Ledford's insurance carrier offered Cawthorn $3 million, the policy limit, to cover his treatments and settle the claim but, at his lawyer's recommendation, Cawthorn sued the company for $30 million for acting in bad faith.
Article continues below advertisement
Was Madison Cawthorn training for the Paralympics?
The U.S. Representative for North Carolina's 11th congressional district has shared Instagram posts about training for the Paralympic Games and even claimed on a podcast that he had an "opportunity for the Paralympics for track and field," but the politician does not appear to have competed in any qualifying races and is not listed on International Paralympic Committee's registry, according to The Nation.
Article continues below advertisement
"It's like a kid saying they want to play in the NBA when they're on their fourth-grade basketball team," Amanda McGrory, a three-time Paralympian and a seven-time track and field gold medalist, told the magazine.
Article continues below advertisement
Was Madison Cawthorn in the military?
Rep. Cawthorn has not served in the military. He claimed on his campaign website that he was nominated to the Naval Academy but that his plans were "derailed" by the car accident. However, in a 2017 sworn deposition related to the aforementioned lawsuit, Cawthorn said he was notified before the accident that he had not been accepted into the academy, the AVL Watchdog reports.
Article continues below advertisement
"I never said I was appointed or accepted to the academy, I knew that I'd only been nominated at that point," Rep. Cawthorn later told WLOS-TV. "I fully expected to be accepted and to be appointed, but at that point I hadn't received it. So I've been very careful never to mischaracterize who I am as a person."
Article continues below advertisement
Where did Madison Cawthorn get his education?
In the same deposition, Cawthorn said that he attended Patrick Henry College—a small evangelical Christian school in Purcellville, Va.—but dropped out after one semester and after he earned mostly D grades. The politician, who was homeschooled as a child, testified that his injuries interfered with his academic performance at the college. 
Article continues below advertisement
In October 2020, more than 150 of Cawthorn's former Patrick Henry schoolmates signed a letter accusing him of "sexually predatory behavior" during his time at the school, in addition to lying and vandalism, as Blue Ridge Public Radio reported. The authors wrote that Cawthorn would frequently drive female students "to secluded areas, lock the doors, and proceed to make unwanted sexual advances."
Article continues below advertisement
A spokesperson for Rep. Cawthorn's campaign called the allegations "unsubstantiated and anonymous accusations," per BPR. The campaign also posted a letter, signed by six people, to endorse his congressional bid. "Attacks from liberal sources, as well as discontented PHC alumni, who never knew or interacted with Madison, do not accurately reflect Madison's true character," the latter reads, in part.
Article continues below advertisement
Is Madison Cawthorn married?
Rep. Cawthorn's website reveals he's engaged to be married to one Cristina Bayardelle. According to The U.S. Sun, Bayardelle is an athlete, fitness instructor, and personal trainer from Florida.