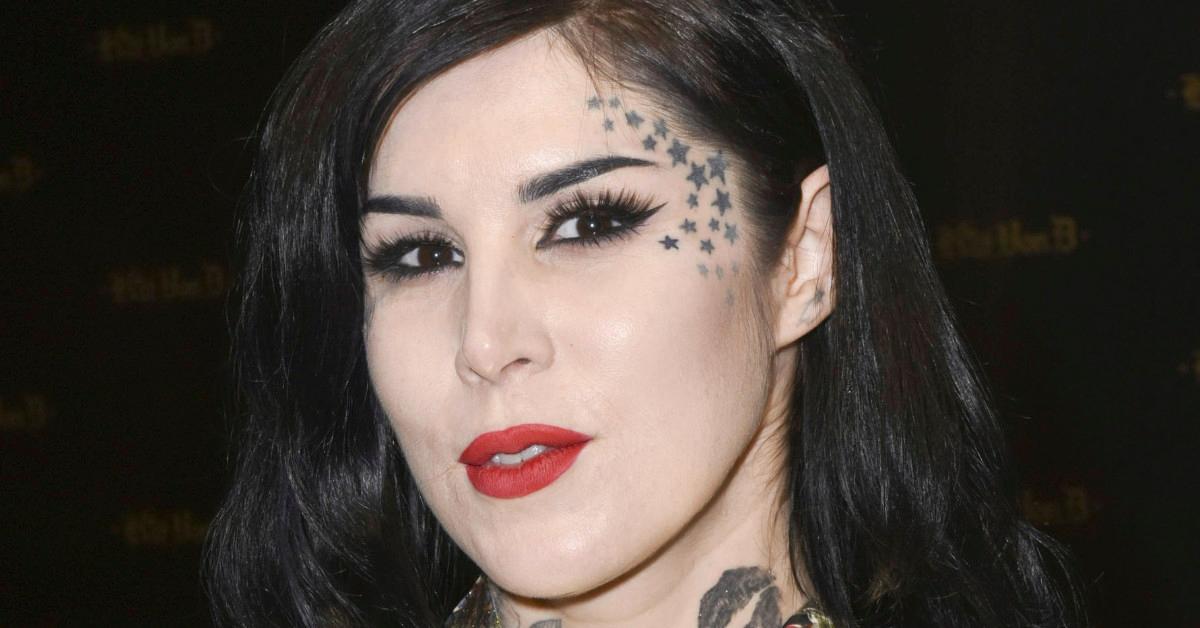 Kat Von D Sued Over Unpaid Rent and Damage at Her Former Tattoo Shop
Tattoo artist Kat Von D's net worth will take a hit if a new lawsuit against her succeeds. According to a new report, she's being sued for unpaid rent and damage to the storefront that she rented for her now-defunct High Voltage Tattoo shop in West Hollywood, Calif.
Article continues below advertisement
Article continues below advertisement
TMZ broke the news of the lawsuit on Monday, April 11. According to legal documents obtained by the website, the landlord of the property contends that Kat Von D owes more than $92,000 in rent and remodeling fees. The lawsuit also alleges that Kat von D removed ceiling tiles, painted the ceiling, removed wallpaper, and demolished a wall in the store.
The lawsuit comes amid much upheaval for the LA Ink alum, including her move to the Midwest and her exit from the makeup business.
Kat Von D listed her home for sale in January as she closes up shop in California.
In January, Kat Von D put her Victorian home in Los Angeles on the market for sale for $15 million. She bought the property—which boasts 13 bedrooms and 10 bathrooms across 12,565 square feet—in 2016 for $6.5 million, according to TMZ. The house—famous for its role in the 2003 film Cheaper by the Dozen—includes a library, a hidden bar, a two-bedroom carriage house over the carriage, a "French ballroom" living room, seven fireplaces, and a blood-red swimming pool.
Article continues below advertisement
A few months earlier, in October 2021, Kat Von D indicated her plans to sell the mansion in an Instagram post about leaving California for a new home in Indiana. "After much thought, we have decided we will permanently be moving to Indiana at the end of this year," she wrote. "We plan on selling our beautiful home here, and I will most likely open a private studio in Indiana once we are done with the house remodel there."
Article continues below advertisement
Article continues below advertisement
In the same post, Kat Von D revealed that she'd be closing High Voltage Tattoo that December. "I didn't think it would make sense to keep it open if I wasn't present, and aside from coming back to work on music with my band, we don't plan on returning to LA very often," she explained.
According to Celebrity Net Worth, Kat Von D has a net worth of $30 million.
Kat Von D
Tattoo artist, model, entrepreneur, former reality TV star
Net worth: $30 million (reported)
Katherine Von Drachenberg, better known as Kat Von D, is a tattoo artist who rose to prominence on the TLC reality TV show LA Ink.
Birthdate: March 8, 1982
Birthplace: Montemorelos, Nuevo León, Mexico
Spouses: Oliver Peck (m. 2003, div. 2007), Rafael Reyes (m. 2018)
Children: Leafar Von Drachenberg Reyes (b. 2018)
Article continues below advertisement
Kat Von D also gave up her makeup brand, saying she couldn't "do everything at the maximum capacity."
In January 2020, Kat Von D announced that she would be stepping away from her makeup business after 11 years and selling all of her shares of the company—then called Kat Von D Beauty—to the beauty company Kendo Brands.
Article continues below advertisement
Article continues below advertisement
"As many of you know, I gave birth to my beautiful baby boy, launched my vegan shoe line, and am now busy prepping to release my long awaited album in the spring, followed by an international tour!" she wrote on Instagram at the time. "As much as I wish I could balance all of this, on top of continuing my makeup line, it has become clear to me that I just can't do everything at the maximum capacity."
She said that the company would be rebranded as KVD Vegan Beauty to "avoid any confusion." In March 2021, however, the company rebranded again as KVD Beauty, saying the initials stand for "Kara, Veritas, and Decora," or value, truth, and beauty. In an Instagram comment at the time, Kat Von D affirmed that she had "nothing to do" with the brand, according to Insider. "And to be honest, [I] wish they'd change the name altogether already so I wouldn't be associated with it," she added