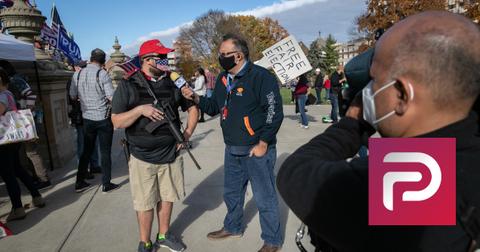 Parler Stock Isn't Publicly Traded, but the 'Free Speech' Site's Supporters Are Still Flocking
By Rachel Curry

Updated
It was only a matter of time before social media became a political hub. With the 2020 U.S. election still in our laps, Facebook has made the choice to ban groups of people who are spreading false information. Those people, largely supporters of Donald Trump, are flocking to social media site Parler. Although Parler is a privately held company and you won't find Parler stock on the public market, it's still garnering serious attention.
Article continues below advertisement
What is Parler social media?
The radical left and fake news journalists will be so bored when we are all only on Parler and have 100% ditched Twitter.

They'll be forced to open up Parler accounts as a result and that's when Twitter will cease to exist.

Twitter is the next MYSPACE!!

— Nick Adams (@NickAdamsinUSA) November 9, 2020
Head to parler.com and the first thing you'll notice is a testament to free speech. It speaks to people who want to post content "without fear of being deplatformed" for their views. This is a direct poke at social media sites such as Facebook, Twitter, and Instagram, which have a history of eliminating hate speech and false information from individuals and groups.
Parler social media calls mentions of hashtags "parleys" to help differentiate itself from other platforms. Recently, one hashtag has seen a rise in popularity exceeding 15,000 mentions: #stopthesteal. So where does that hashtag come from?
Article continues below advertisement
Once the U.S. election began to veer toward a Joe Biden win, incumbent supporters launched a Facebook group of 365,000 members who echoed Trump's claims of voter fraud on behalf of the Democratic party. Because these claims are false, Facebook made the decision to remove the group.
People from the group herded over to Parler. Because of Parler's emphasis on free speech, the unfounded Stop the Steal movement has had the opportunity to flourish there. Some conservative organizers have even promoted vote counting protests to gain popularity.
Article continues below advertisement
Far-right commentator Katie Hopkins moved to Parler after being kicked off Twitter for violating the platform's guidelines. Other Parler users include Eric Trump, Rudy Giuliani, and Milo Yiannopoulos.
Is Parler just another MeWe app?
MeWe is another social media platform tailored to the idea of free speech. MeWe gained popularity at the start of the pandemic, when anti-lockdown protesters needed somewhere to voice their views. Since the election, right-wing groups who believe Democrats are "stealing" votes from Trump have found solace in MeWe.
Article continues below advertisement
Both Parler and MeWe seem to attract the same kind of users: people who can't comfortably voice unfounded claims or hate speech on leading platforms.
Who owns Parler?
Parler was founded in 2018 in Nevada by John Matze and Jared Thomson. Matze is CEO of Parler, while Thomson is chief technical officer. Both founders attended the University of Denver, as did other executive members of the company.
Article continues below advertisement
All,
Can't thank you enough for making Parler the # 1 app in the country. I'm asking for your patience while we deal with the exponential growth. I personally assure you that we're working around the clock to improve the experience & add features. My apologies for the glitches. pic.twitter.com/xaO4BHP9MO

— Dan Bongino (@dbongino) November 9, 2020
Dan Bongino also has an ownership stake in Parler. Bongino is a conservative political commentator and former NYPD officer and secret service agent. He's attempted to run for Congress three times but hasn't prevailed.
Who is John Matze?
In addition to serving as Parler CEO, Matze is an iOS developer for Parler. He got the site's name from the French word meaning "to speak." Matze has been in the picture since the beginning, and as seen Parler grow to more than 2.8 million users.
The John Matze bio is just part of the picture
The platform is run, funded, and populated almost exclusively by people with right-wing political views (and Matze is only one of them). Stock from the conservative hideout is not available on the public market, but Parler maintains its popularity with folks bent on "free speech."