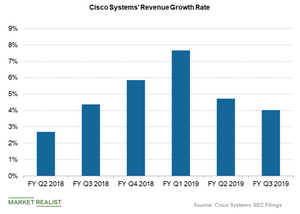 What Were Cisco's Revenue Drivers in Q3?
Cisco posts upbeat revenue
Cisco Systems' (CSCO) revenue of $12.96 billion exceeded analysts' expectation by 0.5% in the third quarter of fiscal 2019. Its revenue rose 4% YoY (year-over-year) in the quarter, in line with the company's expectation of 4%–6% growth.
Excluding revenue from Cisco's SPVSS (service provider video software solutions) business in the previous year's quarter, its revenue was up 6% in the third quarter of fiscal 2019. Cisco's revenue has been rising on a YoY basis for the past six straight quarters.
Article continues below advertisement
Revenue by segment
While Cisco's product revenue was up 7% YoY, its service revenue rose 3% YoY in the third quarter of 2019, excluding the sale of its SPVSS business in October 2018. Its revenue grew the most in the Americas region, with a growth rate of 9%, followed by the EMEA (Europe, the Middle East, and Africa) region, which grew 5%. However, its revenue fell ~4% in the Asia-Pacific, Japan, and China region.
The company's product revenue was driven by revenue growth in the Security, Infrastructure Platforms, and Applications segments. Cisco's Infrastructure segment, its largest segment, which includes data center switches and routers, posted revenue growth of 5% YoY to $7.55 billion in the quarter. The segment is reportedly expected to get a boost from 5G communication networks. However, Cisco executives don't expect this boost to happen before 2020.
Cisco's Applications revenue rose 9% YoY to $1.43 billion in the quarter, reflecting a slowdown from the second quarter's rise of 24%. Its Security revenue of $707 million also rose 21% YoY in the quarter partly driven by the acquisition of authentication software and services provider Duo Security. Cisco's network security, advanced threat protection, and cloud security offerings also boosted its growth.
Cisco's services revenue rose on the back of software and solutions support. The company is shifting its focus toward software offerings and gaining more subscriptions. Cisco has partnered with cloud service providers such as Amazon, Microsoft, and Alphabet to work with web-scale providers and strengthen newer growth areas such as the cloud, Internet-of-Things, and cybersecurity spaces.