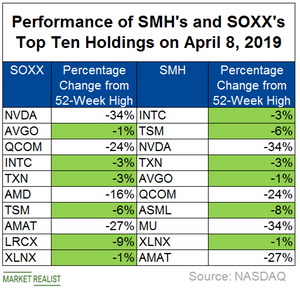 What Pushed SOXX and SMH to New Highs?
SMH and SOXX make new highs
The semiconductor sector is set to report its weakest earnings in more than two years. Despite weak earnings expectations, semiconductor ETFs are trading at their all-time highs. The iShares PHLX SOX Semiconductor (SOXX) and the VanEck Vectors Semiconductor ETF (SMH) peaked at $112.89 and $201.42 on April 8, respectively. The SMH rose 28.9% YTD and 9.9% in the last 12 months. Similarly, the SOXX rose 27.9% YTD and 13.5% in the last 12 months. A more than 20% increase in three months shows that investors are bullish on the sector.
Article continues below advertisement
RSI
The RSI (Relative Strength Index) is a technical indicator that measures the intensity of investor sentiment by looking at the trade volume and the direction in which it is skewed. The RSI is measured on a scale of zero to 100, with less than 30 indicating that the stock is oversold and greater than 70 indicating that the stock is overbought.
On April 8, the SOXX and SMH had an RSI of slightly above 69, indicating that the two ETFs are almost overbought. This measure shows that investors are buying ahead of first-quarter earnings. As semiconductor companies start releasing their earnings in mid-April, the two ETFs might see some price correction according to the earnings outcome.
Performance of top ten holdings
Now let's look at which companies' earnings will have a bigger impact on the two ETFs. We have listed the top ten holdings of SOXX and SMH in the above table along with their current trading price compared to their 52-week highs. Semiconductor investors should keep an eye on the above companies' earnings as the top five holdings account for 40%, and the top ten holdings account for more than 60% of the ETF's value.
Intel (INTC), Xilinx (XLNX), Texas Instruments (TXN), TSMC (TSM), and Broadcom (AVGO) are among the top stocks that are trading close to their 52-week highs and driving the semiconductor ETFs price. Each of them is a leader in their respective markets. For instance, Intel is a leader in PC and server processors, and TSM is the world's largest foundry. The first four companies are set to announce their earnings between April 15 and 30.
Check out all the data we have added to our quote pages. Now you can get a valuation snapshot, earnings and revenue estimates, and historical data as well as dividend info. Take a look!