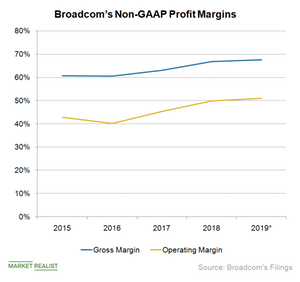 Why Broadcom Is One of the Most Profitable Semiconductor Companies
Broadcom's profitability
So far, we have looked at Broadcom's (AVGO) revenue. Now let's look at its profitability. Until now, the company's profits were a product of a favorable product mix, low costs, and high volumes. Another factor that drove Broadcom's earnings is cost synergies from M&As (mergers and acquisitions). The company's M&A strategy is to buy market leaders and sell off their commoditized or slower businesses to make research and development efforts focused and efficient. This strategy has helped Broadcom generate high margins and cash flows. Beginning in fiscal 2019, the company will add a new and high-margin revenue stream of software licensing to its earnings, which will boost its earnings and cash flows.
Article continues below advertisement
Gross margin
Broadcom has one of the best gross margins in the semiconductor industry, as it optimizes costs. It has expanded its non-GAAP (generally accepted accounting principles) gross margin to as high as 68.4% in the fourth quarter of fiscal 2018, which beats rival Texas Instruments' (TXN) gross margin of 64.8%.
We expect Broadcom's gross margin to increase sequentially as the addition of CA Technologies' earnings could offset a lower mix of higher margin enterprise products and weaker-than-expected sales from smartphones. Broadcom expects to expand its full-year fiscal 2019 non-GAAP gross margin to 67.5% from 66.8% last year.
Operating margin
The benefits of a higher gross margin will likely trickle down to operating margin. Broadcom has been increasing its operating margin for the last 11 quarters on the back of cost synergies from acquisitions. This trend is likely to continue in fiscal 2019, but the rate of growth is likely to slow as the CA Technologies acquisition doesn't bring with it many cost synergies. The company expects to expand its full-year fiscal 2019 non-GAAP operating margin to 51% from 50% last year.
Although Broadcom expects its fiscal 2019 profit margins to improve, the year is expected to start slow with sequential declines in margins due to the weak macro environment. Next, we will look at Broadcom's earnings per share and cash flows attributable to shareholders.
Check out all the data we have added to our quote pages. Now you can get a valuation snapshot, earnings and revenue estimates, and historical data as well as dividend info. Take a look!