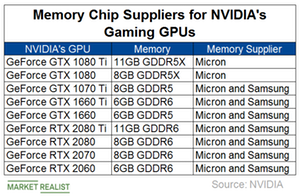 Micron's DRAM Technology Focus
By Puja Tayal

Mar. 21 2019, Published 3:10 p.m. ET
Advanced DRAM technology
DRAM (dynamic random-access memory) is the memory of a system and a key component that drives the system's performance by aiding in the processing of data. DRAM technology has outlived its usefulness, and the only way to improve memory performance is by increasing DRAM content per device. The only technology advancement in DRAM is the transition to a smaller process node, which increases density and power efficiency and reduces cost per bit. Investments in advanced nodes generate strong returns during industry uptrends, when DRAM prices rise.
Micron Technology (MU) is currently ramping up its production of 1Y DRAM. It's also filling the gap in its DRAM portfolio by adding new products.
Article continues below advertisement
Micron's DRAM portfolio
Micron's DRAM portfolio consists of PC and server DRAM, low-power DDR (double data rate), graphics DDR, and automotive memory. It's a leader in automotive memory. As we discussed in the previous article, the cloud and server market accounts for a major portion of DRAM revenue, as server DRAM commands a higher price and delivers higher performance than other DRAM products.
For instance, NVIDIA's (NVDA) highest-range DGX2 supercomputer houses 2 TB of DRAM. An AI-based server houses six times more DRAM than a standard server. A cloud server houses 70% more DRAM than a standard server.
The growing amount of DRAM content in the server space has encouraged Micron to develop its own HBM (high-bandwidth memory) for use in data centers. So far, only Samsung (SSNLF) and SK Hynix offer HBM memory. While HBM doesn't generate volume sales, it commands a higher price, which helps improve margins.
In 2016, Micron launched GDDR5X and became the sole memory supplier for NVIDIA's GTX 1080Ti and 1080 GPUs. Micron is closing the technology gap with Samsung by launching its GDDR6 DRAM immediately after Samsung. The first GDDR6 chip appeared in NVIDIA's TX GPUs. However, NVIDIA is using both Samsung's and Micron's GDDR6 DRAM in its latest RTX GPUs.
Next, we'll look at Micron's negative-AND business.