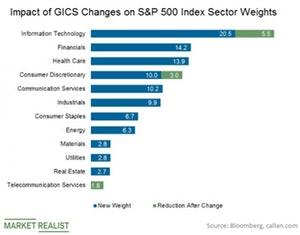 What Brought the Communication Services Sector to Light in 2019?
Direxion
Will defensive stocks hold back the communications services sector?
After a big reshuffling in September, the S&P Communications Services sector was launched, and it includes superstars from the technology sector like Facebook, Alphabet, and Netflix, along with those that would be considered "traditional" communications stocks, including AT&T and Verizon. And early in 2019, Direxion launched leveraged ETFs to keep up with the changing times. The new ETFs are TAWK (3x Bullish) and MUTE (3X Bearish). The new sector was launched to help better reflect how the world's population communicates and shares information, and the mix of growth stocks with defensive stocks helps create a sort of balance.
Article continues below advertisement
Alphabet, Facebook, and Netflix carry the three largest weightings in the communication services sector, but the final seven that make up the top ten would all be considered value or defensive in nature, which may hold the sector back in February and beyond. Investors are craving growth over value right now, so while Alphabet, Facebook, and Netflix may post solid returns, they may be largely offset by weakness in defensive stocks like Verizon, Twenty-First Century Fox, AT&T, Comcast, and Charter Communications. TAWK is up an impressive 20% since its inception in mid-January.
Market Realist
What about the new communication service sector?
In September 2018, the new S&P 500 Communication Services Sector Index was launched. This index includes a few of the popular FAANG stocks like Facebook (FB), Alphabet, and Netflix (NFLX). These stocks were earlier part of the technology or the consumer discretionary sector. The main intention behind this reshuffling was to acknowledge how these sectors have evolved over the years.
The chart above shows the effect on sector weighting for the S&P 500 after the reshuffling. Many investors believe that not having the popular FAANG stocks in the tech sector could affect the performance of the tech sector index. However, these growth stocks could lift up the communication services sector. The other telecommunication services stocks are defensive stocks that provide stable earnings and constant dividends without being affected by market volatility.
Other stocks that are part of this index are the existing Telecommunication Services companies Verizon Communications (VZ), AT&T, and Century Link. Apple will continue to be a part of the tech sector, and Amazon will be part of the consumer discretionary sector. Either way, investors can choose to invest in this sector through Direxion's newly launched Direxion Daily Communication Services Idx Bull 3X (TAWK) and the Direxion Daily Communication Services Idx Bear (MUTE) ETFs.