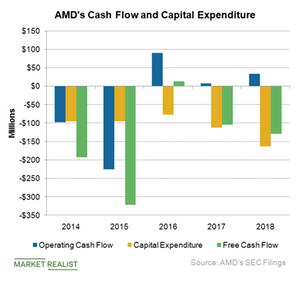 AMD Remains Free Cash Flow Negative
AMD's capital expenditure
Previously, we saw that Advanced Micro Devices (AMD) improved its gross margin by increasing its mix of new products. However, the go-to-market cost of new products lowered its operating margin during weak revenue. Its capital expenditure rose 44% YoY to $163 million in 2018 as it built a new office. Its overall capital expenditure is lower than Intel's (INTC) $15 billion in capital expenditure, as the former outsources manufacturing to third-party foundries like Global Foundries and TSMC (TSM), while the latter has its own manufacturing facilities.
Article continues below advertisement
AMD's cash flow
Earlier, AMD suffered from multiple years of losses, which resulted in negative operating cash flows. However, its operating cash flow turned positive in 2016 when it launched its Polaris GPUs (graphics processing units). The launch of Ryzen and EPYC CPUs (central processing unit) generated positive operating cash flow in 2017 and 2018.
In full-year 2018, AMD earned operating cash of $34 million, but it was not sufficient to meet its capital requirements. Thus, the company had negative FCF (free cash flow) of $129 million. The 2018 FCF was weaker than last year's negative FCF of $105 million. The company missed its guidance of returning to positive FCF in 2018 mainly because of high inventory levels of new products and high receivables.
AMD didn't provide FCF guidance for full-year 2019. There is a possibility that it might report another year of negative FCF as it ramps up production of its 7-nm (nanometer) Rome server CPUs (central processing units), which would increase its go-to-market cost and capital expenditure.
Next, we will look at AMD's inventory and receivables, which negatively impacted its FCF.
Check out all the data we have added to our quote pages. Now you can get a valuation snapshot, earnings and revenue estimates, and historical data as well as dividend info. Take a look!