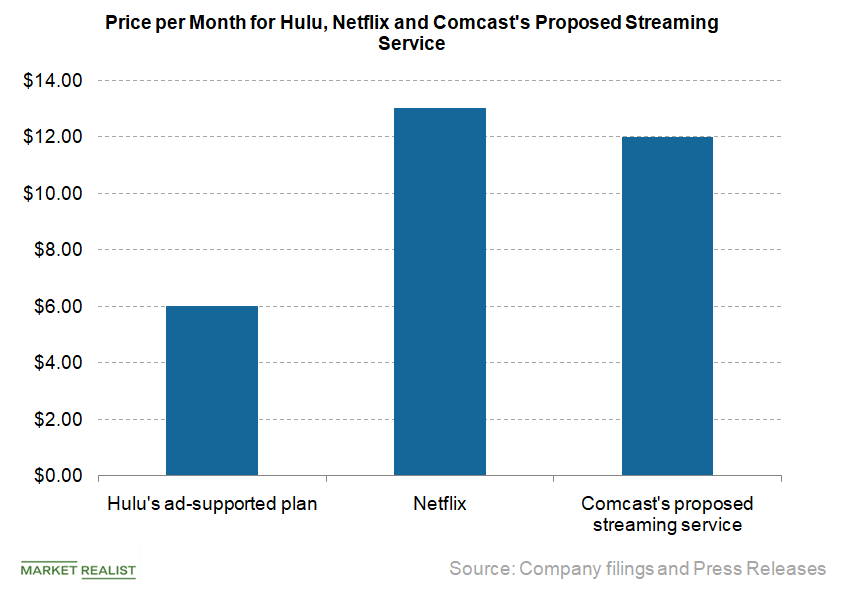 Why Hulu Changed Its Pricing Strategy
Hulu's revised pricing strategy
Earlier this month, Hulu announced a change to its pricing strategy. According to a Variety report from January 23, Hulu lowered the price of its ad-supported streaming plan from $7.99 per month to $5.99 per month. At the same time, Hulu raised the price of its live-TV streaming package by 12.5% to $44.99 per month. This change in pricing followed Netflix's (NFLX) (QQQ) price hike where the company hiked the price of its popular Standard plan from $10.99 to $12.99 per month.
Hulu's CEO, Randy Freer, claimed earlier this month that Hulu had hit the mark of 25 million subscribers by the end of 2018. In comparison, Netflix had paid memberships of 58.5 million at the end of the fourth quarter of 2018.
Article continues below advertisement
Currently, Comcast (CMCSA) has a 30% stake in Hulu, while AT&T's (T) WarnerMedia holds a 10% stake in the OTT (over-the-top) service. The Walt Disney Company (DIS) and 21st Century Fox (FOXA) hold a 30% stake each in Hulu. However, Disney's share in Hulu will come to 60% after the completion of its acquisition of 21st Century Fox. Now let's look at the reasons behind Hulu's change in its pricing strategy.
The rationale behind the new pricing
One of the reasons behind Hulu's lower price for its ad-supported streaming package could be that the service wants to attract more viewers, especially considering Netflix's recent price hike. This move could also result in more advertising revenue for the service as more viewers may subscribe to Hulu's ad-supported streaming service. According to Hulu, its advertising revenue rose year-over-year to 45% in 2018 and reached ~$1.5 billion.
Hulu's move of raising the price of its live-TV package comes at a time when its live-TV offering is proving to be extremely popular. According to a FierceVideo report from last year, citing a report by Strategy Analytics, Hulu's live television offering could have reached 1 million subscribers.
One of the major reasons for the popularity of Hulu's live-TV could be that news and sports programming continue to attract more viewers, and currently, other streaming services like Netflix do not offer these programming genres. According to Hulu, around 75% of its live-TV subscribers prefer to watch sports. Considering these statistics, the rise in price for Hulu's live-TV offering is unlikely to make a dent in its popularity.