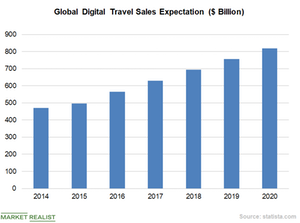 Expedia to Benefit from Rising Online Travel Demand
Rising online travel demand
With the technological advancements, the dynamics of the travel industry have drastically changed over the past decade. Travelers are now moving to online travel booking agencies rather than traditional ones. In the past few years, online travel booking agencies have gained significant momentum due to increased mobile and Internet penetration around the world.
Travelers can now more easily book their hotel rooms, train and flight tickets, rental cars, and vacation spots from anywhere just by signing in to an e-commerce travel site. Travelers can check the reliability of booking sites by checking their ratings and reviews. Users can also compare the prices of hotels and flights on various booking platforms. Apart from this, online platforms usually offer numerous deals on bookings, which is an added advantage for travelers.
Article continues below advertisement
Statista expects global digital travel sales to reach $817.5 billion by 2020 from $629.81 billion in 2017. According to the latest data from Technavio, the global online booking platform is projected to increase at a CAGR (compound annual growth rate) of 11% from 2018 to 2022. The global travel industry is also expected to grow by 12% from 2017 to 2023.
Expedia is poised to capitalize
Expedia (EXPE) is one of the leading online travel booking agencies that has relationships with over 200,000 hotel owners across 200 countries. The company offers more than 300 packages for airline, car, cruise, and other travel bookings.
With such a massive product portfolio and partnerships, Expedia is well positioned to capitalize on the growth opportunities in the travel industry. Further, the company's sustained focus on technical enhancements should help it snag more market share.
With the aim of easing the booking process for its users, Expedia is currently working on incorporating AI technology into its online travel business. The integration of AI technology could enable users to book or cancel flights and hotel reservations with voice commands on Alphabet's (GOOGL) Google Assistant from any device. Also, users will be able to access information about their Expedia trip itineraries as well as packing lists for upcoming trips with a simple voice command.
With a market cap of $79.6 billion, Booking Holdings (BKNG) is the biggest player in the online travel booking space, followed by Expedia's $16.8 billion, Ctrip.com International's (CTRP) $15.6 billion, and TripAdvisor's (TRIP) $7.4 billion.
Those who want exposure to Expedia stock may also invest in Amplify Online Retail (IBUY), which allocates 3.3% of its funds to the stock.