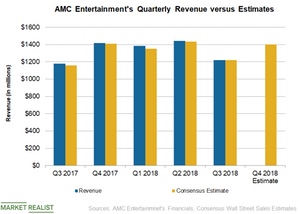 Blockbuster Movies Drive AMC Entertainment's Top Line
By Victoria Dean

Dec. 26 2018, Updated 9:50 a.m. ET
A strong year at the box office
AMC Entertainment (AMC) had a good year at the box office in the first three quarters this year, boosting its revenue by 7.9%, 20.0%, and 3.6% in each quarter, respectively. Its third-quarter revenue was subdued as most movie releases were pushed to the holiday period.
AMC's revenue beat analysts' consensus estimate in the first two quarters and matched it in the third quarter. In the last 11 quarters, it has beaten analysts' estimates seven times.
Article continues below advertisement
However, analysts expect revenue to fall 1.2% YoY (year-over-year) to $1.40 billion in the fourth quarter, potentially due to an unfavorable YoY comparison. Last December, Star Wars: The Last Jedi had a record opening, of ~$220 million the United States and Canada and $450 million worldwide, according to CNN Business.
The absence of a comparable movie title this quarter could impact AMC's top line. In fiscal 2018, analysts forecast its revenue to grow 7.2% YoY to $5.44 billion. AMC hasn't provided guidance for the fourth quarter or fiscal year.
Growth strategy
As we've discussed, the additions of recliners and large-format screens are also boosting AMC's top-line growth. AMC has added recliners to 288 US locations, and by the end of the year, it aims to have over 21 European theaters equipped with recliners. AMC expects Stubs A-List to add $120 million in annual revenue.
From January 9, AMC is planning to increase the price of Stubs A-List in Florida, Colorado, and Georgia to $21.95 (excluding tax) from $19.95. The service is set to be priced at $23.95 in Massachusetts, Connecticut, California, New York, and New Jersey, and stay at $19.95 in 35 states. AMC's terrific 2019 movie line-up (including Captain Marvel, Avengers: Endgame, Aladdin, Toy Story 4, Star Wars: Episode IX, Frozen 2, X-Men: Dark Phoenix) is also expected to bolster its revenue growth.